It's Time For U.S. Companies To Embrace Lean Manufacturing
The U.S. manufacturing sector has seen a decline, with domestic producers' market share for goods dropping to 66% in 2022 and productivity remaining stagnant since 2011. Manufacturers grapple with challenges ranging from supply chain disruptions to accessing cutting-edge production technology. However, lean manufacturing, rooted in employee engagement and data-driven approaches, emerges as a beacon of hope, with its potential to reverse this decline.
Research by Industry Reimagined 2030 highlights the effectiveness of lean manufacturing, but emphasizes the need for a modern adaptation and greater understanding among companies. Despite only a fraction of U.S. firms harnessing its benefits, lean manufacturing stands as a pivotal strategy that could rejuvenate the American manufacturing landscape.
In recent years, the concept of lean operations, known for its low-inventory and just-in-time approach, has faced challenges and scrutiny as unpredictable global events strained supply chains. As the business landscape has shifted, there has been a pivot towards resilience, with many companies favoring stockpiling inventory "just in case." Now, as businesses grapple with the emergence of a new normal, the importance of efficiency is once again in the spotlight, bringing lean back into consideration.
However, a pressing concern arises from the United States' diminishing expertise in operations management over the past few decades. With fewer universities offering specialized courses and an increasing number of executives lacking foundational knowledge in the field, the intricacies of operations management risk being oversimplified or misunderstood. This misapplication could be detrimental, as successful lean practices require a profound understanding of operations and stakeholder value. For a deeper dive into this topic and its complexities, Tyson Browning, Professor of Operations Management at Neeley School of Business at Texas Christian University, offers his view.
Tyson's Thoughts
"Experts are always calling for more lean, no matter what the times. Over the past three years, though, the just-in-time, low-inventory, lean operation and supply chain model has been stressed, to say the least, to the point where lean has been questioned. Rather, resilience became the buzzword, and keeping inventory just in case was often the answer.
Now that operations are returning somewhat to normal, and as supply chains are reforming around a new normal, the question of productivity and efficiency is back, and lean practices are no doubt going to be part of the solution. Generally, though, over the past several decades, the United States has lost a lot of its operations management expertise. Many universities no longer have an operations management department or as many operations management courses—certainly not as many students. Many executives come from finance or other backgrounds where operations management is thought of as a bunch of details that can just be left to others, or something that one could obtain a better version of simply by writing a check. But as Elon Musk discovered trying to get the Tesla factory up to speed a few years ago, and as many others are learning now, as manufacturing is returning to the U.S., excellent operations management is not trivial or simple.
A particular danger is when naive managers apply lean practices willy-nilly or dogmatically without a deep understanding of their operations and how they provide value for their stakeholders. But done right, lean practices are a terrific contributor to improved operations, and hopefully our nation will benefit from using them appropriately going forward."
Latest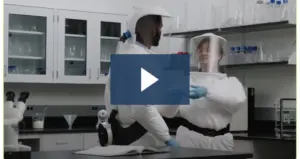 September 25, 2023
On the latest episode of Expert Insights, presented by Benchmark Products, host Jennifer Parker sat down with Greg Steller, National Account Manager for Bullard™, to discuss Bullard's groundbreaking Sightline product. The Sightline respirator, designed for sterile pharmaceutical manufacturing, offers a 320-degree panoramic viewing lens to ensure maximum visibility and reduce operator claustrophobia. Stellar emphasized […]
Read More