Continued Success in Accounting & Finance
2022 sure had its ups and downs, but when looking towards the new year, it can be cathartic to reflect on past successes and give thanks for all one's accomplishments.
One area of growth and success for MarketScale in 2022 was in its Accounting & Finance department. Joining MarketScale in May 2022 as the Director of Accounting & Finance is Michael Gambill, a business and accounting major from Texas Wesleyan University. Gambill brings several years of accounting practice to MarketScale and embodies the team spirit within the Dallas, TX, B2B Content leader.
Gambill was pleased to share some words on his past year at MarketScale, leading into 2023.
"Looking back on 2022, heading into 2023, there are so many things to be excited about and proud of, and I, for one, am excited and proud that I was actually chosen and picked to be part of the internal accounting and finance team. MarketScale has grown so much over the past six years, that it got to a point where we needed an internal accounting and finance team, and being a part of that, growing that out and building visibility and just better reporting all around, that's very exciting. But also to be a part of a company that I do feel like does truly care, not just about their customers, but about each other. We care. We have fun together, have fun in the office, and yeah, there are so many things looking for exciting in 2023 to keep this growth pace going."
Latest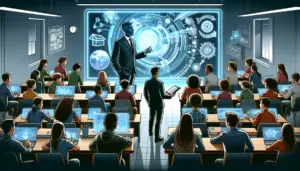 November 27, 2023
In an era where education stands at the crossroads of tradition and innovation, the potential value of thought leadership becomes the guiding star for progress. "Just Thinking" dives into this potential with host Kevin Dougherty and guest Evan Edwards, a Professional Learning Specialist at 806 Technologies who exemplifies the transformative impact of visionary guidance […]
Read More