Episode 2: Shattering Glass Ceilings: The Epic Rise of Women in Manufacturing and Technology
The same part of the brain that is stimulated when one is hungry also experiences activation when we crave social interactions. The bottom line: we need socialization and human interactions. And that's important not only for day-to-day relationships, but it is also a critical piece of connecting with customers for business marketing.
How are those in the manufacturing sector, such as the glass industry, disrupting their own marketing tactics from the last ten years? And in such a digitized world, how can there be a balance between human connections and technology?
On today's episode of DisruptED, Manufacturing Edition, host Ron J. Stefanski and cohost  Kelly Ireland of cbtechinc, speak with Syndi Sim, Vice President of Marketing and Business Development at Diamon-Fusion International, to discuss the disruption of traditional marketing methods in the glass industry and how the industry is balancing humanness with technology use.
Adapting marketing strategies is key to any business's success. Why? Marketing drives consumer engagement, relationship development, a business's reputation, sales success, and can help companies make informed decisions.
"When I started, there was not a lot of marketing. Generally, the glass industry has not been very good marketers, and it's not really a surprise. It's a lot of just built on relationships, it's a lot of referral business, it's a lot of loyalty, it's a lot of family-run businesses. You just got the business." Sim explained. She added, "Over the course of the past ten years, it has significantly shifted to being much more marketing savvy."
Stefanski, Ireland, and Sim also discussed…
How her arm of the business has branched out in their marketing strategies for the glass industry
How trade shows play a role in the glass industry's marketing tactics
The balance between technology and human interaction in business relationships
"When I decided during the pandemic to open up more about myself, open up more about the company, people really reacted positively…up until COVID, I was always professional. There was nothing ever that was not professional. And to open up that side of myself—it actually allowed me to be more confident and allowed me to garner more business relationships and show a part of myself I probably never would have done…it's so wonderful to have the human interaction."
Syndi Sim is a business development and marketing leader with more than two decades of experience. Currently, she is Vice President, Marketing and Business Development at Diamon-Fusion International and has held roles such as Director of Marketing at Lexipol, Director of Business Development and Marketing at Penco Engineering, and Director of Business Development and Marketing at New Century Mortgage. She attended California State University, Fullerton, where she earned a BA in Sociology, Criminology as well as August Volmer University, where she earned an MA in Criminology. Sim also holds a Women in Leadership Certificate from Cornell University.
Latest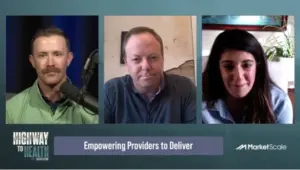 December 6, 2023
The healthcare industry is undergoing a significant transformation, driven by the need to improve patient experiences, access, and outcomes. Amidst this shift, contract lifecycle management (CLM) is emerging as a critical tool for healthcare providers. With the increasing pressure on cost management and compliance, healthcare organizations are seeking solutions that streamline operations and enhance […]
Read More