Exceptional Customer Service: Real-life Examples of Brands that Go Above and Beyond
Key Points:
Personal interactions and engagement with brands online, such as through fandoms, can create a positive brand experience.
Brands that prioritize customer satisfaction and loyalty, by offering free replacements or refunds for defective products, can foster a strong relationship with customers.
Contrasting experiences with different brands highlight the importance of responsive and customer-centric approaches to customer service.
Summary: 
In this episode of the "Great Brand Experience" podcast, Lucia Zazueta and Cassie Akins share their perspectives on brands they like or have had experiences with. Cassie prefers brands that she can interact with, especially through fandoms like Taylor Swift, which creates a more personal and engaging brand experience. Lucia shares an example of exceptional customer service from a subscription box brand called Butter Box, which promptly replaced a defective product for free upon receiving her email, fostering a strong relationship with customers.
Cassie also mentions a positive experience with a brand that honored a warranty for a broken product, despite her not signing up for it within the stipulated time frame. In contrast, both Lucia and Cassie recount negative experiences with other brands that were unresponsive and unhelpful when customers faced issues with their products. The conversation highlights the importance of brands prioritizing customer satisfaction and loyalty by being responsive, understanding, and customer-centric in their approach to resolving customer issues. Overall, the podcast emphasizes the significance of exceptional customer service and positive brand experiences in building long-term customer relationships and brand loyalty.
Latest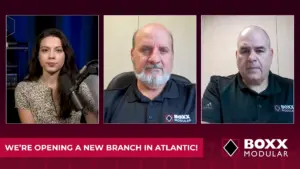 December 4, 2023
In an era where construction innovation is reshaping the industry, modular construction's growth continues to rise. In this episode of Built Modular, Boxx Modular's strategic expansion into Moncton, Atlantic Canada takes center stage. Host Gabrielle Bejarano welcomes Charles Landry and Ray Girouard to explore the implications of this venture. Bejarano, Landry, and Girouard discuss […]
Read More