Finding Common Ground Over Coffee
Coffee is more than a beverage. It's a culture to many, and for some, it's their livelihood. TJ Fairchild, founder and owner of Commonplace Coffee, is an old friend of Greg's and shared his nearly 20-year love affair with coffee culture.
Fairchild met Greg in 1999, as he was working at a coffee shop outside Charlotte, NC, while he was attending seminary. "I was always in love with coffeehouse culture. My wife and I had worked in it many years, and what was so amazing about was the relationships created in the space," he said.
Fairchild said, meeting Greg and his wife Connie, "kind of changed my life." After finishing seminary school, he and his wife went on a journey in a Volkswagen van, not knowing what would happen next but always thinking about where relationships would take him.
He soon learned of an opportunity to open a coffee shop in the small college town of Indiana, PA. "My wife and I talked about the venture with Greg and Connie. They encouraged us, and we talked about how coffee relates to business," he noted.
Now, 17 years later, the brand has grown tremendously. It started with calls from Pittsburgh to share their coffee. The company now has seven retail locations, a bakery, and wholesale coffee roasting capabilities. "All the pivots and opportunities that got us where we are today were relationship-driven," Fairchild commented.
Fairchild also shared how he's paying it forward, developing relationships with employees, customers, and many more. His latest project illustrates his desire to give back. "I've been working with The Discovery Channel on their program Undercover Billionaire. They focus on businesses that are struggling, and one happens to be a coffee shop. I was filming just last week with the young lady, teaching her what I've gathered from relationships and mentors," he said.
It's truly amazing what can be learned and shared over a cup of coffee.
Latest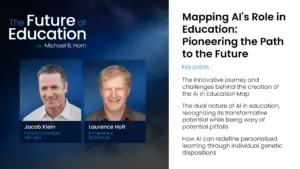 October 2, 2023
Mapping AI's role in education should be a critical step in bringing together innovative technology-based solutions with the expertise of human educators. With rapid advancements in artificial intelligence and an increased reliance on technology-driven educational solutions, the education landscape is on the brink of a significant transformation. AI promises highly personalized learning experiences, efficient administrative […]
Read More