From Gangs to Activism, Learning from Antong Lucky and his Redemptive Path
A path to redemption paved with inspiration is most rewarding. For Antong Lucky, inspiring others and sharing wisdom from his many trials and tribulations is his passion and his life's mission. Former founder and leader of the Dallas 415 Bloods Gang, Lucky's journey in and out of the U.S. prison system, as well as a deeply personal journey of self-discovery, led him to eventually renounce his gang ties and work to build avenues for reentering formerly incarcerated people into society, launching violence reduction strategies, and mentoring black men and boys. As the Urban Specialists Master Educator and National Engagement Director for OGU (Original Gangstas University) and an accomplished author and activist, Lucky now uses his skills to teach others how to move through life with a credo of peace and resolve conflicts without violence; Lucky's unique journey has led to his emergence as a leader in the movement to heal America. 
It's no surprise that Tuesdays with Morrisey's Adam Morrisey wanted to have Lucky on the podcast to not only reconnect with a friend and professional colleague, but share his story with others to offer relevant insights on living a life of determination, healing, and community-building. Morrisey was fascinated to learn more about how Lucky connected the dots from his past to the present and created a powerful influence with government and community leaders.  
"The underlying thread that took me from the drug house to the White House was the fact that I really believed and embodied redemption and transformation that we all are entitled to," Lucky said. "We've all made some mistakes in our past that we don't care to admit. But those mistakes don't define who we are." 
During Morrisey and Lucky's conversation, they discuss:  
The mentors that inspired and shaped Lucky's path to redemption

Strategy and initiatives happening with the Urban Specialists

Lucky's memoir, A Redemptive Path Forward

Lucky's relationship with the late Bishop Omar, founder of Urban Specialists, and Omar's legacy
"The late great Bishop Omar was one of the smartest people I've ever met in my lifetime," Lucky said. "He spent his entire life helping and adding meaning to other people's lives. His personality was so big that whenever he walked into a room, everybody just drew to him. He could provide a solution to every problem." 
Antong Lucky is the author of A Redemptive Path Forward: From Incarceration to a Life of Activism. He is the President of The Urban Specialists and Co-Chair of Heal America. Lucky has devoted the last twenty years to ending violence in communities by training OGs (Original Gangstas) across the country to effectively mentor youth away from a life in gangs, crime, and violence. 
Latest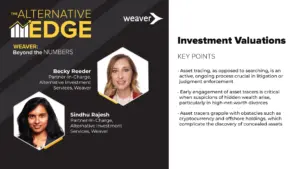 December 4, 2023
In this episode of The Alternative Edge, a Weaver: Beyond the Numbers Podcast, host Becky Reeder, an audit partner and co-leader of the alternative investments practice at Weaver, engages with Sindhu Rajesh, an Alternative Investment Services Partner with Weaver. They unpack the complexities of venture fund valuations, offering critical insights into industry dynamics and best […]
Read More