Harnessing AI for Creative Innovation: cutting through AI hype and misconceptions for creators
In this episode of B2B Weekly, we delve deep into the world of AI and how it is impacting creators. Gavin Purcell joins host Tim Maitland to break down the hype around AI and discuss the immense potential for value and change that is being driven by this innovation.
They will go beyond ChatGPT, and explore a more comprehensive spectrum of AI applications that are reshaping the creative landscape. It also will touch on concerns and possible misconceptions, such as the fear of job loss due to AI, and illustrate how to best approach learning and adapting to these tools.
Join this conversation to grow as a creator/marketer/sales professional to understand, embrace, and effectively utilize AI to fuel your creative endeavors. Tune in as we demystify AI and illuminate the path toward more efficient creation.
Latest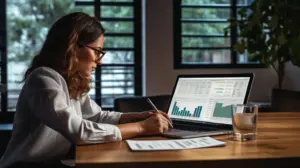 October 4, 2023
The intersection between security and financial acumen often gets overshadowed in a constantly changing economic landscape. While security is essential for safeguarding assets and ensuring continuity, its perceived monetary value is mired in misconceptions affecting company profitability. For many, security is viewed primarily as an expense rather than a potential cost-saver. However, understanding […]
Read More