Hire Education: A Commitment to Talent, a C-Suite Conversation
In the Catapult Solutions Group podcast, "Hire Education," host Daniel Litwin talked with the company's CEO, Patrick Burke, and its CFO, Alex Anderson, about the creation of the company and how they've managed its successful growth, their leadership, and what's in store for the future.
Catapult Solutions Group is a Dallas-based staffing agency founded by Burke, along with his brother and business partner in 2013. They help companies find talent in various industries such as healthcare, IT, skilled trades, engineering, and more. Burke had over a decade and a half of staffing experience when he started his company. Shortly after, he met Anderson, who was working in finance and enlisted him to be a part of his team in 2016. Today the two men are good friends who are running an efficient staffing agency.
The leadership of Catapult Solutions Group is a major key to their success. Burke and Anderson have different but complementary methods of leadership. Burke said his style is more fervent because he prioritizes the interpersonal aspect, particularly because he wants to see how people will branch out on their own.
"I'm pretty intense. I love to inspire and motivate people. I love to believe people and have people believe in themselves," said Burke. "I think once you believe in yourself, you can do a lot of powerful things and I say give people autonomy and have them feel like they're an entrepreneur."
While close monitoring can have its pros, Burke stated that there's a time and place to seize control in the workplace. He said he sees the benefit of it, but only employs it when necessary.
"I like to not micromanage, but there are times to micromanage and times not to," he said.
He also said that he uses the opportunity to learn from every walk of life, including from his young daughter, and cited that he likes to learn from everybody.
Anderson said he admires Burke's desire to learn from various aspects and discussed how that influences Burke's leadership style. He said Burke is "learning constantly from people regardless of status, what industry they work in, and where you meet them," said Anderson.
However, Anderson's leadership style is different. As a former college athlete, he credits a lot of his leadership skills to the valuable things he learned while in school and playing college sports. In terms of leading, he said prefers clarity above everything and pinpointing areas that detail someone's capabilities.
"The kind of leader I wanted to be was very much: set clear expectations, try to identify great talent, but understand that not everybody is going to be the MVP caliber athlete or professional," he said.
He added that knowing how to recognize strengths and weakness is resourceful in understanding someone's professional abilities and even their competition.
Burke stated that creating any company has its difficulties, especially when you're reaching out and expecting help from somewhere, and that help doesn't come.
Nevertheless, he managed to grow a lucrative business. When Anderson joined the company, he stated that Catapult Solutions Group had already been a $19 million business simply through Burke's work ethic. In the last six years, he said the company has expanded internationally and continues to follow the growth of certain industries to specify where they could grow as well.
Since then, Catapult Solutions Group has grown to a $50 to $60 million dollar company. Burke said he constantly gets the question about how it was possible, and he said it was through dedication and building a good rapport with banks.
By doing that they didn't have to seek loans or provide equity and managed to still grow as a company.
Latest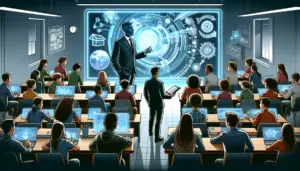 November 27, 2023
In an era where education stands at the crossroads of tradition and innovation, the potential value of thought leadership becomes the guiding star for progress. "Just Thinking" dives into this potential with host Kevin Dougherty and guest Evan Edwards, a Professional Learning Specialist at 806 Technologies who exemplifies the transformative impact of visionary guidance […]
Read More