Home Pricing: Make the Most of Selling One of Your Biggest Assets
The U.S. housing market, marked by a series of ebbs and flows, is currently experiencing a modest recovery. According to the latest S&P CoreLogic Case-Shiller US National Home Price Index, home prices, which rose by 0.4% in March 2023, are being nudged upwards by a scarcity of inventory, as fewer homes are listed for sale, thus driving up demand and prices. This low supply, coupled with stabilizing mortgage rates, has intensified competition among potential buyers, affecting home pricing and overall market affordability.
Though national home prices are growing at a minimal rate year-over-year, regional disparities exist. Miami and Chicago have seen notable growth, while other areas like Seattle and San Francisco are experiencing a decline, highlighting the geographical variance in this recovery.
The future of the housing market, however, lies in the balance of economic uncertainties like Federal Reserve policies and debt ceiling negotiations. Amid this volatile environment, home sellers are advised to strategically position their properties. Making homes appealing, setting competitive prices, and synchronizing marketing efforts are essential tactics for successful sales in this challenging climate.
Rob Jensen, a veteran real estate broker and owner of Rob Jensen Company, offers some insights into pricing your home competitively – and profitably.
Rob's Thoughts:
"There are three factors that contribute to you selling your home for the highest price possible. Everybody loves new stuff, so the more your home looks, feels, and smells clean, the better. Whether that's carpet, paint, staging, or just a deep clean. Price your home competitively. This will drive up interest, demand, and hopefully multiple offers. If you overprice your home, you run the risk of sitting there with little to no interest. And be sure and launch all of your marketing on the same day. This allows out-of-state buyers to feel comfortable making an offer, which drives up demand and your sales price."
Latest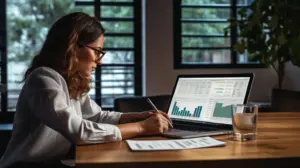 October 4, 2023
The intersection between security and financial acumen often gets overshadowed in a constantly changing economic landscape. While security is essential for safeguarding assets and ensuring continuity, its perceived monetary value is mired in misconceptions affecting company profitability. For many, security is viewed primarily as an expense rather than a potential cost-saver. However, understanding […]
Read More