Zillow's Not a Real Estate Agent. Don't Rely On It To Find Your Home Valuation
In the dynamic landscape of real estate, home valuation is a delicate process requiring not just data, but a deep understanding of unique property features and market trends. Platforms like Zillow offer a numerical estimate based on comps or square footage but can fail to capture the essence of a home, from interior renovations to captivating outdoor vistas.
Zillow's recent forecasts show a renewed optimism in the country's housing market, predicting U.S. home price to increase by 4.8% between April 2023 and April 2024 and that only 10 of the nation's 400 housing markets to see a price decline. Still, it's vital to recognize the limitations of such projections. They lack the nuance of personalized assessment, unable to account for variables like local market conditions, unique property features, or regional demographics, which can significantly impact home values. The company notes that their projections for home valuation also don't take into account the recent bank failure or the recent Federal Reserve monetary policy.
Additionally, despite Zillow's predicted increase, other firms like Fannie Mae and Moody's Analytics suggest a possible market correction in 2023. Navigating these complexities requires the expertise of a real estate professional.
Rob Jensen, Broker and Owner of Rob Jensen Company, is dedicated to providing comprehensive and personalized home valuations, and he provides a word of caution when using Zillow or other platforms like it.
Rob's Thoughts:
"It's a mistake to use Zillow to price your home. Look, Zillow uses square footages and recent sales prices and averages them together to come up with a value for your property. But they have no idea what your home is like on the inside. Perhaps you recently renovated. Maybe you have pocket doors or a wine cellar. Zillow also has no idea what your home is like on the outside. Maybe you have Las Vegas strip views or vistas of the mountains or golf course, water features, and beautiful landscaping. Zillow knows a few things, but they don't know what makes your home special."
Latest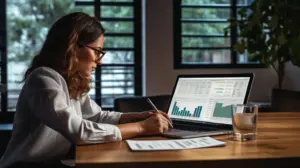 October 4, 2023
The intersection between security and financial acumen often gets overshadowed in a constantly changing economic landscape. While security is essential for safeguarding assets and ensuring continuity, its perceived monetary value is mired in misconceptions affecting company profitability. For many, security is viewed primarily as an expense rather than a potential cost-saver. However, understanding […]
Read More