Real Estate Prices are Falling, but Interest Rates are Rising. Manhattan Real Estate Sales are Dipping as a Result…What's in Store for the Future?
Housing prices soared during the peak of the pandemic in 2020 at a 30-year record-high appreciation rate of two percent between May and July. The price tags in real estate are finally falling a bit, but the interest rates are going the opposite way, says Forbes. What is the result? The industry is seeing some falling sales, with Manhattan apartment sales experiencing the largest decline since Q3 of 2020.
What else is stirring in the Manhattan apartment industry amidst the change in directions? Inventory is still limited, hovering much lower than the average of 8,000 apartments that are usually on the market—there were only 6,523 apartments on the market in Q4 2022. The increase in interest rates has more buyers than ever opting to pay in cash, with cash deals comprising over half of the Q4 Manhattan apartment sales.
How will the real estate market combat the dip in sales and stay on track? Mike Fabbri, Licensed Real Estate Salesperson, Nest Seekers International, discusses what real estate buyers and sellers can do to keep the market healthy.
Mike's Thoughts: 
"Hello, Mike Fabbri with Nest Sneakers International. I've been in real estate, for a little over 10 years, and I've never seen a market like this, but it's been very interesting. A roller coaster for sure. But I'm here to tell you, despite what you're hearing, everything will be okay.
It is slow. Sales dropped for the first time since the pandemic. We all know that Q4 was. not a high volume transaction time in the market, but deals did get done. And I think personally, what I'm expecting to see happen is that you'll have 2023 will be a year of building, and you're going to have serious buyers and serious sellers that will make deals happen.
And if they're motivated and they're smart and they learn to play chess instead of checkers, they can make that happen. For buyers, it's maybe understanding that you might have to take a rate that's a little higher, but you'll get a discount on a forever home. And that won't exist a year from now and it certainly didn't exist a year before.
For sellers, it's maybe waiting, timing the market right to you can't time the market, but listing the property at the right price targeting the right buyers, and also working with the right brokers. That's another big thing we're going to see this year. I believe there's going to be a thinning of the herd.
And I know that sounds a little doom and gloom, but I think it's necessary and it's a good thing because real estate shouldn't be easy. We are brokers, we have to broker deals, and we have to make them happen. And while last year was great, you opened a door, you got offers, and got to the closing table.
This year's not going to be like that. It's going to take a level of intelligence, strategy, communication, and respect to get deals done. And what I mean by that, is deals go smoothly, faster, and better when there's mutual respect and communication on both sides of the table. That's the brokerage job. Also to seek out opportunities, especially in a market where there's very low inventory, you have to personally find the opportunity. You have to find the product, and what that means is you have to have a very good network of brokers that you have good relationships with, that respect you, that trust. and really your reputation will matter that much more.
The market will get better. No one's betting against New York. But really make sure you have the right team behind you. You have the right broker, you understand your clients and you can weather this storm."
Article written by Cara Schildmeyer
Latest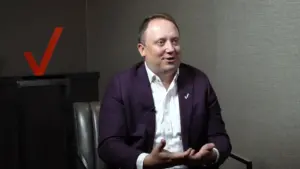 December 1, 2023
For a special episode of The Verizon Partner Network the focus was on the considerable role of partnerships in the Verizon Partner Program and the leaders shared their perspectives on the initiative. Their conversation brought about a lot of thought-providing context on the evolving telecommunications landscape. In today's era, collaboration and integration are key to […]
Read More