How Collection Agencies Can Benefit from Customer Satisfaction Surveys
Business leaders in B2C industries are quite familiar with post-call customer satisfaction surveys. After all, they're one of the most effective and practical ways to measure consumer sentiment.
However, the debt collections market is one industry that hasn't implemented this aspect of consumer experience – until recently.
Tim Scholl is IC System's Call Center Support Supervisor, as well as the one who built the company's Consumer Satisfaction Survey (CSAT) in 2017. Podcast host Tyler Kern tapped Scholl's expertise in this area to find out what benefits and insights this system has provided since then.
Although customer satisfaction surveys are standard for most consumer-facing businesses, this was not the case for the debt collection industry. In fact, when IC System first launched their post-call survey initiative, it was the only collections agency doing this.
But, since September 2018, Scholl's CSAT system has garnered over 450,000 responses from consumers, and the information they gained from those responses was enlightening.
"We see a big jump in conversion rate and payment size when people say that they are treated professionally, so we're ecstatic about the results that we're seeing," Scholl said.
Although the call center support team has their own internal scoring system for measuring employee results, "that doesn't necessarily reflect the consumer experience."
These surveys allow Scholl and the leadership team to assess how consumers feel about their call experience without having to have a potentially difficult conversation.
"We treat them the best that we can, which then reflects back on us, which then reflects on who that original creditor might have been," Scholl noted.
Subscribe to the Closing the Books podcast today to get the latest news and insights on the debt collections industry.
Follow us on social media for the latest updates in B2B!
Twitter – @MarketScale
Facebook – facebook.com/marketscale
LinkedIn – linkedin.com/company/marketscale
Latest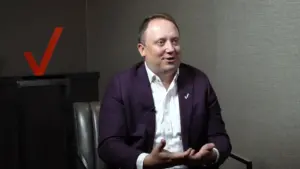 December 1, 2023
For a special episode of The Verizon Partner Network the focus was on the considerable role of partnerships in the Verizon Partner Program and the leaders shared their perspectives on the initiative. Their conversation brought about a lot of thought-providing context on the evolving telecommunications landscape. In today's era, collaboration and integration are key to […]
Read More