How One Company Has Faced the Global Supply Chain Challenges Head On
Oftentimes, we take our online orders and deliveries for granted. We expect the 2 day shipping because it has grown more common and been very predictable. We've grown accustom to a well run supply chain without even thinking about it, but when the entire world goes through an event that completely shifts consumer behaviors it threatens to throw everything in chaos.
Tyler Kern spoke with Jens Holstebro, President of FrontRow, on how they have faced the global supply chain challenges head on.
Latest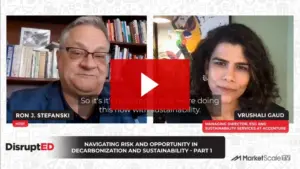 September 26, 2023
The global conversation has shifted dramatically towards decarbonization and sustainability in recent years. With the world experiencing unprecedented levels of disruption, from 5G technology to the challenges of a pandemic, the urgency to address climate change and its implications has never been more palpable. Although most business leaders see the vision of Sustainable Development […]
Read More