How to Cater to the Human Element of Banking
During the pandemic, customers found it critical to adopt online banking solutions. As a result, innovations accelerated in the banking industry.
Now, technology is drivingnew trends in digital banking behaviors from customers who expect their online experience to match their in-branch experience.
So, how do banks and credit unions maintain the human element in theironline banking experiences and turn a business feature into a differentiator? Nick Barnes, Practice Director for Financial Services at JRNI, and Thomas Novak, Vice President and Chief Digital Officer for Visions Federal Credit Union, provided some insights.
"First and foremost, banks need to consider the emotional impact of their engagements with customers," Barnes said. "From a digital standpoint, consumers demand more today than just speed and ease-of-access. They want to feel good about their interactions with technology, which requires an element of human connection. Banks can deliver meaningful, powerful, personalized experiences by using their existing data and everyday customer touchpoints."
One keyword that Novak said Visions Federal Credit Union focuses on is empathy. "It all starts for us with the North Star, which is how do we put digital-first experiences out there for our members so that we can empower them towards financial independence? That's how we're going to blend the human and the digital aspect."
Another critical focus for Novak and Visions is blending the digital and physical sides of banking seamlessly to make it intuitive for their members. No matter how they choose to do their banking, it's an easy process. "Taking that approach to really think through how a member might go through a particular journey is central to that empathy and helps us build digital experiences that enable the fostering of empathy and improving the member experience."
Follow us on social media for the latest updates in B2B!
Twitter – @MarketScale
Facebook – facebook.com/marketscale
LinkedIn – linkedin.com/company/marketscale
Latest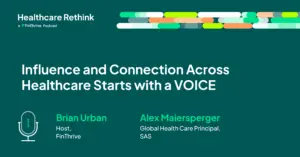 September 29, 2023
In the latest episode of the Healthcare Rethink podcast, presented by FinThrive, host Brian Urban sits down with Alex Maiersperger, the Global Principal Healthcare at SAS. Their conversation charts the role voice plays in influencing and connecting the healthcare industry. Maiersperger, who co-founded the Advancement League, shares his journey from being a healthcare optimist to […]
Read More