How Top Dallas Companies Turned the Pandemic into an Era of Success
It's hard to imagine too many companies looking back on the last 18 months and claiming it to be a successful era of growth and confidence. And yet, for SMU's Dallas 100, resilience, ingenuity, and some strategic nimbleness gave them a path to success even when the odds looked grim.
For the 31st year in a row now, Southern Methodist University's Caruth Institute of Entrepreneurship is celebrating the top 100 fastest growing and most successful businesses in the DFW metroplex. Not only did these companies see growth, but they overcame supply chain, workforce, investment and client retention challenges. We invited several of the Dallas 100 to MarketScale's studios to analyze their strategies and understand what the business world can learn from the Top Dallas Companies paths to success that let them not only survive, but thrive during COVID.
Cherry Coatings
Zack Cherry is the CEO of Cherry Coatings, a commercial coatings company innovating around paint, flooring and maintenance coatings for markets like data centers, industrial, healthcare, education, and more. Zack explains how a refocus on communication and setting sights inward helped Cherry Coatings empower its employees and in turn its clients, as well as which regional markets were key to finding new strategies for growth.
"The market that we've seen that has really impacted our business and has been the hottest market for us has been Nashville. We just got into that market in the past year and that market is just on fire. As we've seen Dallas has slowed down and Austin is starting to slow down and some of our other markets have been kind of lukewarm. We've really, you know, put a lot of attention into Nashville, and they have just really been growing that city. A lot of high rises, you know, big buildings. So there's been a lot of interior work that we've gotten. So with the corporate real estate, the trends of having less office space use, we have had to adapt and pivot. And we've really tried to focus on other segments that will allow us to keep our revenue up and keep our people busy. And so, you know, any time you have segments that die down and they always do. Sometimes hospitality, strong offices, strong multifamily, strong. And right now, just that office space is not very strong. And so we have to pivot off of that and focus on the markets that are like light industrial and put more focus in time and energy into that."
The Crowther Group
Thomas Crowther is the CEO and Managing Partner for The Crowther Group, a legacy commercial general contractor with more than 80 years of experience in multi-site projects, including work with major commercial properties like Target, McDonald's, DISD administration buildings, and DART public transit stations. With the "Great Resignation" impacting hiring trends and labor decisions in the construction industry, Thomas digs in to the company's analysis of their workplace perks and culture and how that led to investments in their employees' health and career skills.
"When I walk through the halls of our organizations today, when I fast forward four and a half years later, five years later, I hear people working together for a good cause. I hear teammates solving issues. I hear challenges. I hear empathy. I hear our group selling. I hear clients and the phone ringing. And the thing that I'm most proud of is that our vision actually has impact. We are working with great clients that betted on us, Fortune 500 companies. All of our clients has it in their DNA to serve the DFW community."
Precision Appliance Leasing
Teresa Kraemer is the CEO of Precision Appliance Leasing, a company providing landlords or property managers with in-unit washer and dryer leasing options and sales for commercial and residential properties. Centering the company's CHRIST (Character, Honor, Respect, Initiative, Service, Teamwork) value system in every decision throughout the pandemic, Teresa shares how she achieved zero turnover and in fact added new employees to the team.
"It was a very difficult time because my employees, the drivers, are in 10 to 15 resident's homes a day. So you can only imagine the exposure that they had. And they were unbelievably devoted to being an essential business. And we're committed to that and never lost a beat. So I give that as one of my components to my success."
Sellmark Corporation
James Sellers is the President and Founder of Sellmark Corporation, a producer, manufacturer and distributor of precision gear and outdoor goods including night vision, thermal scopes, red dot sights, camping equipment, and more. Dedicated to making "Brands That Sell," Sellmark had to take a critical eye to its global supply chain during the pandemic. James gives an overview of where the company has strategically investing in reshoring its manufacturing footprint to build resiliency.
"One of the products that come to mind is Kopfjäger. It was designed and developed by police officers in Dallas, Texas, and we are dedicated to continue developing that brand, manufacturing that in the United States. So we look for opportunities to do development in manufacturing as close as markets as possible and work with reliable partners globally."
Ironside Human Resources
Doug Carter is the Co-Founder and CEO of Ironside Human Resources, a national recruitment and workforce search firm with more than 35 years of staffing experience for large and small hospitals, connecting care institutions with physicians, medical staff, and administrative staff. Internalizing a willingness to do "anything to stay in business," Doug knew Ironside had to expand the scope of its business model. He explains the company's strategy for into unknown territory with new healthcare staffing markets and how it led to 400% growth in revenue for the company.
"As far as healthcare staffing goes, the shortage that people are seeing out there, it's really all across the board. But the one area that everybody is seeing right now is nursing. Nurses are in high demand and it's because of COVID. The COVID crisis is still out there. Hospitals are struggling. The demand for nurses to do everything is just incredibly high out there. It's hard to find them. The nurses know it. It's become a nurses market. It's very exciting to be in, but it's also very challenging because they're not making more nurses. And it's hard to find them. Our job is to go out there and negotiate the best rates for the nurses and try to help these hospitals stay afloat."
More Stories Like This:
Latest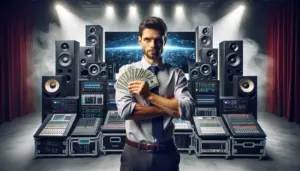 December 8, 2023
Mastering AV sales strategies in a global professional audio-visual (Pro AV) market, poised to reach $79.2 billion by 2028, requires much attention to detail. The surge in demand from corporate, government, and institutional sectors, driven by the need for enhanced productivity and efficient working environments, gives AV sales pros a lot of opportunity. In […]
Read More