Power to Pursue: Tales of Gratitude, Entrepreneurship, and Embracing Authenticity
In this episode of the Power Up With Manal podcast, Rachel DesRochers joins Manal to have a powerful conversation about gratitude, entrepreneurship, and empowerment.
Rachel shares her inspiring journey of starting a graham cracker company with a message of gratitude and persevering through challenges. She emphasizes the importance of instilling values in children, finding balance in life, and embracing authenticity in the corporate world.
Throughout the episode, Rachel's passion for spreading the message of gratitude and building community shines through. She shares her insights on practicing gratitude in daily life and the workplace and encourages corporate leaders to embrace individuality and prioritize joy in the workplace.
Rachel's entrepreneurial journey is a testament to the power of perseverance and the importance of building a supportive community. She shares her experiences of learning to do everything and understanding when to let it go as well as building a team, and highlights the Power to Pursue series for women's executive coaching and training as a way to empower women and build a national community.
Overall, the episode is a reminder to embrace the present, seize opportunities, and prioritize self-care and authenticity in all aspects of life. Rachel's story is an inspiration to anyone looking to pursue their passions and make a positive impact in the world.
Gratitude
Gratitude is the act of gratefulness and showing appreciation or thanks for something or someone who has impacted you in a positive way. Combining gratitude within your business is something a lot of business owners have strategized on because showing appreciation to customers is often for the good and longevity of a business. But it all boils down to ensuring the best practices of customer appreciation, which are many.
How can gratitude be incorporated into businesses?
Exploring the concept of gratitude on the latest episode of Power Up with Manal, host Manal Keen interviewed Rachel DesRochers, the Founder and CEO of Grateful Grahams, on her entrepreneurship journey, making time for thankfulness in one's personal life and business strategy, and how she came to be a big proponent of gratitude.
Keen and DesRochers also discussed …
● Achieving Balance between Guidance and Authenticity for Lasting Success
● Guidance for Corporate Leaders on the Importance of Authenticity in Encouraging Diversity and Fostering Innovation
● Understanding the Impact of Past Behaviors and the Power of Community in Achieving Success
"That's why I love gratitude. It doesn't matter who you are, what you believe, what color your skin is, what your sex is — like gratitude is for all of us and it's one of the most powerful tools that we take advantage of… It doesn't cost you anything. It doesn't take anything away from you, and really it literally is as simple as reflecting at some point in your day, 'What am I grateful for today?' And taking a moment to ask ourselves that question. I would not be here building businesses if I did not have that practice," said DesRochers.
Rachel DesRochers is the Founder and CEO of Grateful Grahams. She is also the Founder and Director of the Incubator Kitchen Collective, and the Founder of Power to Pursue. DesRochers actively runs three businesses and was formerly the host of the podcast, Kitchen Convos, which she hosted for three years.
Latest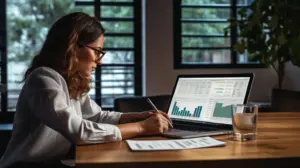 October 4, 2023
The intersection between security and financial acumen often gets overshadowed in a constantly changing economic landscape. While security is essential for safeguarding assets and ensuring continuity, its perceived monetary value is mired in misconceptions affecting company profitability. For many, security is viewed primarily as an expense rather than a potential cost-saver. However, understanding […]
Read More