How Do You Define the Entrepreneurial Mind Set?
Today's entrepreneur has many commonalities with seafarers from hundreds of years ago. That's the connection renowned entrepreneurial expert, author and professor Dr. Patrick Murphy makes in his teachings. Murphy is the Goodrich Chair of Entrepreneurship & Director of the Entrepreneurship Program at UAB (University of Alabama, Birmingham). He joined host Adam Morrisey on Tuesdays with Morrisey to talk about the topic.
"You could say Steve Jobs and Magellan had similarities. The way seafarers operated 600 years ago is not unlike entrepreneurs of today," Murphy explained.
With this reframing, Murphy has written books and articles on the subject. It's also a major pillar for learners. According to him, one thing that makes these people unique is, "They have a strong sense of purpose that they will make sacrifices for like the hero's journey. they believe something strongly, and that brings out the best and worst of human nature."
These seemingly disparate groups actually have many paralegals. They navigated uncertainty and had to build a culture. Murphy added, "Uncertainty has an infinity around it. The risk it creates is an art form of leadership."
They also had high failure rates and had to raise money. Another aspect of both groups is that of mutiny. "Today's mutinies are social and intellectual rather than physical," Murphy acknowledged. However, they are alike and a normal part of life on the sea and a start-up.
Silicon Valley mutiny in the 1950s, abundance who mutinied to found companies like what Oracle is today.
"It's a coordinated upward defiance of authority. Silicon Valley itself is the result of a mutiny. When a mutiny happens, the matrix of opportunities and threats becomes internal. It helps them strategize. It's a new way of doing things."
The first newsletter will release Tuesday March 1st, make sure to follow along by subscribing here.
More Stories Like This:
Latest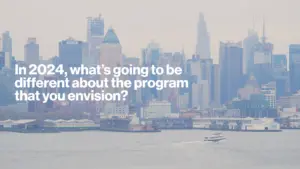 December 1, 2023
In the dynamic telecommunications landscape, Verizon's Partner Network continues to evolve, adapting to new trends and opportunities. For another segment featuring Mark Tina, VP of Indirect Channel Distribution and Channel Chief at Verizon Business Group, he explores exactly what types of significant changes and advancements the Verizon Partner Network will see in 2024. In this […]
Read More