Leading Your Organization into the Future with Empathy and Relationships
You've got a great idea — but how do you turn it into a winning business? On this podcast, Luke Fox and Jef Graham will show you how to be a successful startup CEO  offering insights for first-time company leaders surrounding products, personal leadership, people management, key metrics, and more. It's time to get to work
Being a CEO requires personal leadership and people management. That's the focus of the second in a series of podcasts, The Startup CEO, hosted by Luke Fox, Founder and CEO of Whitefox. Fox welcomed back Jef Graham, a veteran of Silicon Valley startups, holding the role of CEO four times. He currently serves as a board member at NETGEAR.
Graham began by talking about leadership characteristics. "Determination, persistence, ambition, self-confidence, energy, charisma, and articulate are common. I didn't say intelligence, skills, or abilities, but those help. A track record of success is great and a little bit of luck."
"When leaders are striving to better themselves, be willing to be coached because that's how we improve." – Jef Graham
Graham said trust is the most important part of leadership. "Trust is a result, not a behavior. The behaviors to earn are being open and honest, sharing information, and having two-way communication. If people trust and believe in you, they'll follow you."
Graham also championed mutual respect and consistency. When leaders are striving to better themselves, he noted, "Be willing to be coached because that's how we improve."
Being transparent with teams is critical as well. "People should know how you are, and you should understand them, too. Your job as a CEO is to motivate, inspire, and lead every day," Graham said.
Graham provided some insights on managing, hiring, and recruiting. He urged CEOs to have a company-wide paygrade structure and review process because the best people are always being targeted.
On hiring, Graham called it an inefficient process but a necessary one that should include multiple interviewers, a space of respect, and getting to know candidates. "Only hire people you like," he advised.
Firing is also part of being a leader, and Graham said it should be hard to do because it shows empathy. "At the moment, you know someone needs to go, do it ASAP. Otherwise, it can destroy organizations and cause you to lose your high performers."
Follow us on social media for the latest updates in B2B!
Twitter – @MarketScale
Facebook – facebook.com/marketscale
LinkedIn – linkedin.com/company/marketscale
Latest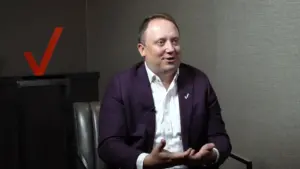 December 1, 2023
For a special episode of The Verizon Partner Network the focus was on the considerable role of partnerships in the Verizon Partner Program and the leaders shared their perspectives on the initiative. Their conversation brought about a lot of thought-providing context on the evolving telecommunications landscape. In today's era, collaboration and integration are key to […]
Read More