Maintaining Whole Margins and Good Relationships During Inflation
Key Insights:
Inflation means rising prices, but your customer relationship should come first.
Collaborate with your vendor partnerships to combat price changes on supplies.
Determine if price changes are short-term blips or long-term realities.
The annual inflation rate for the United States is 8.5% for the 12 months ended March 2022 — the highest since December 1981 and after rising 7.9% previously, according to U.S. Labor Department data published April 12. Mike McCalley has advice for other businesses battling the crunch as a business partner. Determining whether a supplier is a partner or a transactional vendor is a key to combatting inflation for supplies and services. Companies need to leverage their value to customers.
"Inflation and the impact it's having, creating a tremendous amount of volatility and uncertainty. The big question is, what do we do about it?" McCalley poses. First, when a supplier is marking up prices, evaluate existing agreements. Are there current arrangements in place dictating the time and cost of exchanges? Are there any options to leverage to combat the prices?
If there is no existing agreement, there's no wiggle room with the vendor, and they are not a long-term partner, it's time to look around for alternative transactions. Finding competitive pricing will be vital to maintaining full margins.
According to Fannie Mae, inflation is expected to remain elevated, averaging 5.5 percent in Q4 2022. "As our suppliers continue to push their costs onto us, we have to figure out how to keep our margins whole." Again, McCalley urges businesses to determine if they are one-off transactions or partners to customers. Companies should work with customers and collaborate on costs as a business partner. Help your customer understand if this is an ongoing price increase or a short-term solution.
McCalley advises, "Understanding where it is we're creating value, talking that up, and when we have to increase our prices, it's going to be more of a partnership conversation with them. And give them time to collaborate and work with us and come up with an ultimate win-win solution."
Latest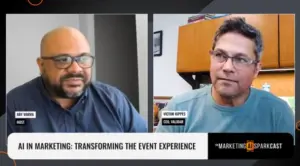 November 28, 2023
AI has been gradually changing the landscape of event technology at a very rapid pace. In an industry where staying ahead of technological trends is crucial, AI's impact on marketing and event management has become increasingly significant. As witnessed in the rise of account-based marketing and enhanced personalization, AI is effectively reshaping how events […]
Read More