Marking Minute: How Do Our Products Fit in the RDOF and Utility Infrastructure Bill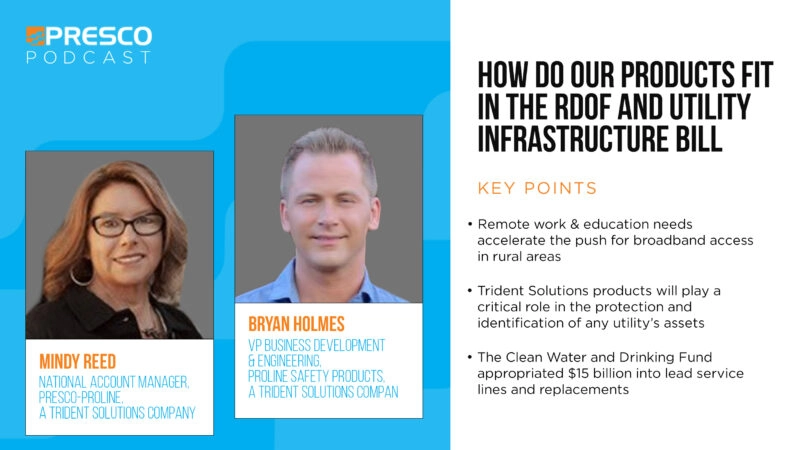 Trident family hassolutions to assist theRDOF and Infrastructure Investment and Jobs Actinitiatives.
KEY POINTS: 
Remote work & education needs accelerate rural broadband access advocacy.

 

Trident Solutions' products play a critical role in protecting and identifying utility assets.

 

The Clean Water and Drinking Fund appropriated $15B into lead service lines and replacements.

 
The Rural Digital Opportunity Fund, or RDOF, enacted in 2019, provides $20.4 billion in funding for rural broadband construction over ten years. Complementing this fund, the newly enacted Infrastructure and Jobs Act promises to bring much relief to the nation in similar projects. With the next decade primed for a flurry of activity, it's critical supporting industries understand resources available, such as the allocation of available funds and product safety support.
Host James Kent invited Mindy Reed, national account manager with Trident Solutions, Presco, and Bryan Holmes, VP of business development & engineering with Pro-Line Safety Products, both Trident Companies, on Marking Minute. The three discussed how the fund and legislation affects the industry and the wealth of opportunity available.
Phase one of the RDOF bidding and awarding process is underway with many approved projects and delegated funds, but Holmes said bidding would soon be underway for phase two.
"According to a report released November 10, 2021, the FCC authorized its fourth round of broadband deployments through RDOF," Reed said. "Fifty broadband providers have provided the service of over 400,000 locations in 26 states… The bulk of today's funding will go to the nonprofit, rural electric cooperatives to deploy broadband throughout the service areas."
Safety products are always a concern for these broadband initiatives, both above and below ground, and Holmes assured that the Trident family has solutions that are ready to assist.
"Trident Solutions is a combination of four companies that are all industry leaders in their own right, and we all came together as a team," Holmes said about Trident's mission to help support these broadband and infrastructure initiatives. "Those companies' — Pro-Line Safety Products, Rhino, Presco, and William Frick — core focus as a group all revolves around prevention of damage to utility assets and saving lives."
Latest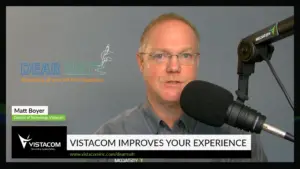 December 11, 2023
In a time when the AV industry supply chain faces unprecedented challenges, understanding its current status and future trajectory is crucial. In this week's segment of "Dear Matt," presented by Vistacom, host Matt Boyer, the Director of Technology at Vistacom, brings his over 30 years of experience in the audiovisual industry to the status […]
Read More