Mike Dunn Promoted to Vice President of Client Success
St. Paul, MN, February 1, 2023 – IC System is proud to announce the promotion of Mike Dunn to Vice President of Client Success. In his new role, Mike will help oversee Account Management and Client Success departments for some of the largest clients that work with IC System, a nationally licensed collection agency headquartered in St. Paul, Minnesota.
"Mike has been with IC System for almost 21 years and started as a collector. Talk about institutional knowledge," reflected Joe Erickson, IC System's Vice President of Human Resources and Client Success. "He moved up to branch manager of one of our offices, and as an Account Manager, he has cultivated IC System's client base."
Mike has had great success leading operational divisions throughout his career at IC System. When in direct competition with national collection agencies or clients' internal operating units, his teams have been consistently rated the top performers. Most recently, Mike has served as Director, Key Account Management for IC System's national client base. As Vice President of Client Success, Mike will continue to shape how clients are serviced and nurtured for growth at IC System.
"He's managed some of our organization's largest clients," Erickson added. "And he's a true expert on the revenue cycles of larger companies. These relationships and processes can be complex, and he's excellent at managing them."
"IC System has been providing superb customer service for close to 85 years," said Mike. "I'm excited to play a part in continuing that legacy."
About IC System
IC System is one of the largest receivables management companies in the United States. Founded in 1938, IC System is a privately held accounts receivable management firm in its third generation of family ownership. IC System provides customized, tailor-made debt recovery solutions for healthcare, dental, small business, government, utilities, and telecommunications industries nationwide. Follow IC System on Twitter at @icsystem or on LinkedIn.
Latest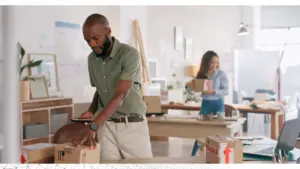 November 29, 2023
While the logistics industry often gravitates toward cutting-edge technology, Wesley Boyce, an Assistant Professor of Practice in Supply Chain Management and Analytics at the University of Nebraska-Lincoln, brings to light the enduring significance of radio communication. In a world enthralled by digital innovation, he argues that the simplicity of radios could be their greatest […]
Read More