Rethinking the Workspace
The design of office space has been evolving since the beginning of the cubicle. In recent years, the push has been to create open space offices to nurture collaboration. Those open spaces now seem unfeasible in a post-COVID world. As workers return to the office, what will the future of workspaces look like? John Comacchio, CIO of Teknion, which offers an integrated portfolio of furniture for the modern office, shared his thoughts on the topic.
As a manufacturer, the company is an essential business. Plants didn't close, but other employees were home to work remotely. While the company has seen ebbs during the pandemic, Comacchio said, "Orders are still coming in; it's the protocols of people going back into the office that are changing what we deliver."
Comacchio agreed that the workspaces of the future will look different. "Workspaces are a surface and a place to sit. We're seeing the use of materials that can be easily cleaned, including the textiles we make," he added.
Universally, workspaces have shrunk as technology became smaller. "The trend could be smaller, private, open, and cleanable for the future," Comacchio noted.
He also spoke at WELL certification, which the company uses to design layouts and flows. "We influence decisions for companies by following WELL practices around natural light, comfort, and air quality."
In talking about his own experience with the changing landscape of where we work, Comacchio said, "Having more touchpoints is necessary. Overall, it's about being an empathetic leader and having an agile culture. The command and control model doesn't work remotely or in-person."
Even as businesses reopen their offices, the ecosystem is different. Leaders and employees will need to adapt, as will workspace configuration.

Latest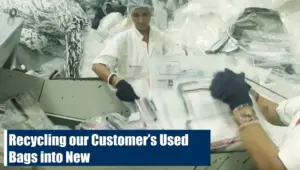 December 6, 2023
This video focuses on EcoLOK4, a groundbreaking product by CONTROLTEK that exemplifies innovation in sustainability. It highlights the process of transforming landfill waste into new deposit bags, with 90% of each bag's material being repurposed trash. This initiative not only reduces waste but also closes the sustainability loop, demonstrating CONTROLTEK's commitment to environmentally friendly […]
Read More