Revolutionizing Connectivity: 5G, IoT, and Smart Cities – A Future Driven by Fiber
Is Fiber revolutionizing connectivity to bring 5G, IoT, and smart cities into the next decade of technological advancements?
Understanding the interplay between 5G, IoT, and smart cities cannot be overstated in this rapidly evolving landscape of global connectivity and digital transformation. The International Telecommunication Union (ITU) projects by 2025, 5G networks will envelop 40% of the globe, supporting an estimated 2.6 billion subscriptions. This seismic shift extends beyond internet speed enhancements; it heralds a future where homes, cities, and everyday objects become interconnected, intelligent, and responsive.
How will this intricate dance of 5G, IoT, and fiber technologies shape the future?
On Wavelengths, an Amphenol podcast, host Daniel J. Litwin, the voice of B2B, sat down for a conversation with Ritesh Mukherjee, VP of Enterprise Networks at Inseego.
Their discussion focuses on several issues, including the following:
The pivotal role of fiber in revolutionizing connectivity in the technologies and networks of the present and future
The ripple effects of 5G on the evolution of IoT deployments and smart city use cases
The current trajectory of edge tech market segments, including 5G, IoT, and smart cities
Ritesh Mukherjee, a seasoned industry expert, brings a wealth of knowledge and experience as the VP of Enterprise Networks at Inseego; Mukherjee and his team are at the cutting edge of developing 5G and intelligent IoT device-to-cloud solutions. Their recent launch of SD Edge is a testament to their commitment to meeting the growing enterprise demand for secure digital transformation experiences driven by 5G and IoT advancements.
Latest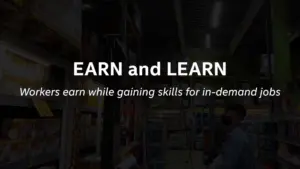 November 30, 2023
Faced with a significant workforce training gap, America is seeing a rise in innovative solutions, notably the earn and learn programs. These initiatives are pivotal in addressing the disconnect between available jobs and the skills of the workforce, particularly benefiting those without a four-year college degree. SkillPointe emerges as a key player in this […]
Read More