Rising Interest Rates—What Does Jamie Dimon Say?
Rising interest rates are still prevalent as ever.
CNBC reached out to JPMorgan Chase CEO Jamie Dimon for his thoughts on the state of interest rates in the U.S.
The Fed recently raised its benchmark interest rate to a targeted range between 4.25% and 4.5%. They anticipate the rate going as high as 5.1%.
While some metrics indicate the U.S. is on a downward inflationary path, Dimon believes this recent easing was due to temporary factors such as the reduction in oil prices and China's economic slowdown due to COVID-19. Temporary is the key word in this equation. Dimon said oil and gas prices would rise in the next ten years, and a 5.1% cap on interest rates might not be enough to bring inflation down to comfortable levels. While Dimon said it was impossible to predict the future of the U.S. economy, he believes interest rates will reach as high as 6%.
Joshua Wilson, Founder and President of United Ethos Wealth Partners is also weary of any reports indicating inflation is easing.
Joshua's Thoughts
"When it comes to inflation, if you can't win, just change the rules. That's what the Bureau of Labor Statistics must have concluded when they decided to put some lipstick on this inflation pig. Starting with the February report, the way CPI inflation is calculated is changing. Unlike the old calculation, that uses a two-year average price, the new calculation uses a one-year average price. The bottom line is that the new calculation will make inflation look lower. So, you should expect inflation headlines to start looking better next month. Jamie Dimon is right. Inflation will continue to rise. However, the speed at which the Fed raises rates could be muted if the lower published CPI numbers make the public feel better about inflation. After all, if they can manipulate the numbers, they can manipulate our feelings."
Article by James Kent
Latest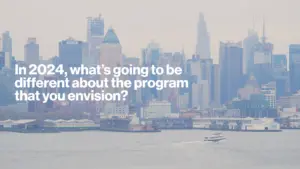 December 1, 2023
In the dynamic telecommunications landscape, Verizon's Partner Network continues to evolve, adapting to new trends and opportunities. For another segment featuring Mark Tina, VP of Indirect Channel Distribution and Channel Chief at Verizon Business Group, he explores exactly what types of significant changes and advancements the Verizon Partner Network will see in 2024. In this […]
Read More