The Thin Line: Unpacking the Secrets of Success and Anxiety
When unpacking the secrets of success and anxiety, one finds, at times, the two inextricably linked together.
Successful achievers possess an inner drive often misconstrued as anxiety. However, their anxiety is a powerful catalyst, fueling their determination, diligence, and accomplishments. Nevertheless, if not correctly managed, what may appear advantageous can lead to misery; it is crucial to strike a balance and harness the potential of this anxiety while ensuring personal well-being and continued success.
The Mondays with Manal podcast returns for its second season, bringing fresh topics and an exciting lineup of guests. In this episode, host Manal Keen looks at the issue of workplace stress and anxiety, particularly among high-achieving individuals, referencing critical insights from the American Institute of Stress. She draws upon Morra Aarons-Mele's Harvard Business Review article, "How Achievers Overcome Their Anxiety," which explores the concept of 'thought traps'—misleading thought patterns that can cloud judgment and decision-making.  Keen also recommends Mele's book, The Anxious Achiever, released in April 2023.
Dr. David Burn's book, Feeling Good: The New Mood Therapy, is another excellent Keen recommendation for unpacking the secrets of success and anxiety. Keen emphasizes the importance of balance as a solution, which involves setting realistic goals, prioritizing tasks, practicing self-compassion, and establishing boundaries. And from the podcast, Ask the Plan Man, Keen shares this quote from host Bruce M. Weinstein, Founder of Weinstein Wealth and Insurance Solutions: "Stress is not what happens to us. It is the response to what happens."
Article by James Kent
Latest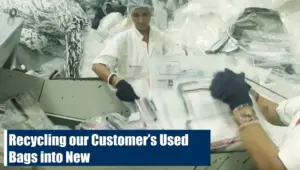 December 6, 2023
This video focuses on EcoLOK4, a groundbreaking product by CONTROLTEK that exemplifies innovation in sustainability. It highlights the process of transforming landfill waste into new deposit bags, with 90% of each bag's material being repurposed trash. This initiative not only reduces waste but also closes the sustainability loop, demonstrating CONTROLTEK's commitment to environmentally friendly […]
Read More