Service Bots: The New Solution to a Labor Shortage?
Every one of us has, at some point or another, experienced the dreaded "let me put you on hold" when attempting to speak to customer service. Well, that may no longer be an issue in the future, as video and voice AI shopping and service assistance for brands and enterprises are rolling out. With this unique innovation, businesses may no longer need to fear future labor shortages. 
So, what are customer assistant bots, and how exactly can they benefit businesses when placed alongside real humans? 
On today's episode of What Just Happened, Host Christine Russo speaks with Michael Riemer, CEO of Vocinity, about implementing AI and service assistants in the retail sector as a new form of customer service.  
When it comes to something expensive, such as workout equipment, the bot can be programmed to take one's body type or workout goals into account. Then, the bot can show the best fit of equipment for that specific customer.  
Riemer described what the experience should entail: "Really being able to create an immersive, personalized journey where rather than typing and waiting, right, you're asking questions, and you're visually engaging with either the virtual human or video or image which just makes it a more engaging and informative conversation." 
Russo and Riemer also discussed… 
Use cases for AI and service assistant bots

 

How AI and service assistants can offload salespeople

 

How bots free up time and money for businesses

 
These assistant bots can even be implemented in the aisles of stores, not just on websites. "So one of the values that we bring is not only does it work on a mobile device, as well as on the web, but you can actually use it in stores as well, just by scanning a QR code that's on any item or merchandise, and actually have the virtual assistant show up on your personal phone and ask any questions that you have rather than trying to find an associate in the store," explained Riemer. 
Riemer is CEO of Vocinity, CONNECTpreneur Ambassador, Managing Partner of New Urbana, and careMESH advisor. He has a BA in Philosophy and Biology from the University of Rochester. He has publications on the Smart Industry Forum, Industry Today, and Smart Industry, amongst other high-profile publications.  
Latest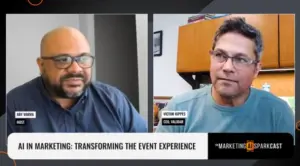 November 28, 2023
AI has been gradually changing the landscape of event technology at a very rapid pace. In an industry where staying ahead of technological trends is crucial, AI's impact on marketing and event management has become increasingly significant. As witnessed in the rise of account-based marketing and enhanced personalization, AI is effectively reshaping how events […]
Read More