Strategies for Powerful Bank Branch Modernization
Organizations often opt for technology solutions that address the most immediate and pressing problems which often result in tradeoffs for more holistic, longer-term solutions. Banking organizations are no exception–particularly when it comes to investing in physical branches. The tradeoff? Erosion of the customer experience, especially as customers engage digitally and expectations evolve.
On this episode of Intel's To the Edge and Beyond, host Tyler Kern was joined by Intel Internet of Things Group Global Banking General Manager Seong Boon "SB" Ngoo and DBS Bank Head of Innovation, India Sandeep Varma, who walked Kern through the technologies and strategies that can help banks modernize their branches to meet growing expectations.
Though branches are no longer transaction centers in the digital age, which empowers consumers to bank on the go, there are certain elements of a bank's role in our lives that can't be fully automated. This is where branches enter the picture, and it's why modernizing them to better fulfill these roles is so critical.
"Like most industries, you've seen consumer behavior evolve over time," Varma said. "There's a new generation of millennials who are digital-natives. So, what we've seen is that these digitally savvy customers prefer to do most of their transactions online or with [mobile devices]. … There's always been a trend toward digitization, and the role of the branch is changing."
While some customers still prefer face-to-face interaction and branches will always have a role to play, the pandemic has further accelerated banks toward digital interaction.
To keep up, banks need to modernize through technologies and solutions like self-service capabilities and kiosks, smaller, interactive spaces that serve as pseudo-branches, cloud and cybersecurity advancements, and more.
Learn more about bank modernization by connecting with Seong Boon "SB" Ngoo and Sandeep Varma on LinkedIn or visiting http://www.intel.com/banking.
Other episodes related to banking:
Subscribe to this channel on Apple Podcasts, Spotify, or Google to hear more from the Intel Internet of Things Group.
Latest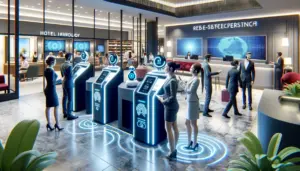 December 8, 2023
Facing critical staffing shortages, over 80% of hotels struggle to fill positions despite offering higher wages and flexible hours, as reported by a recent American Hotel & Lodging Association survey. While slightly improved since May 2022, this situation highlights a significant challenge in the hospitality industry, with housekeeping roles being the most urgently needed. […]
Read More