Success Is Not a Location: Working Remote Made Easy
Karen Mangia, VP of Customer and Market Insights at Salesforce, is an internationally recognized thought leader and author of "Working from Home: Making the New Normal Work for You," "Listen Up! How to Tune Into Customers and Turn Down the Noise" and "Success With Less."
With the pandemic disrupting every aspect of the work environment and many people working remotely for the foreseeable future, now is the perfect time to check in with the person who wrote the book on how to be successful working from home.
"At first, it was great not to have the commute, to maybe have the extra time with your family, and wake up with your pajamas on and start working," Mangia said. "Then, you ask yourself, "How many days should I realistically go without a shower?" Now, I hear both companies and individuals asking, "How long is this going to last?" What I hear within that is people asking an underlying question, which is, "How can I work and live in a sustainable way?"
But, as remote working continues and with many jobs likely to remain remote after the pandemic, what can companies do to make the best out of their employee's work-from-home situations?
"What needs to happen right now is for companies and individuals to pause for just a moment and consider what's working and what's not working," Mangia said.
For workers, Mangia suggested they take stock of their environment and ensure they have the right tools to work remotely, such as a comfortable office chair.
"For companies, that can be pausing to examine what your purpose is now," Mangia said. "Who are you serving now? What adjustments do you need to make? But what I hear so much and think is so critical is to just pause and ask. Get curious. What would you, individually or collectively, want to sustain from this experience going forward, and what have you discovered doesn't necessarily put you at your best? And how can you make very small adjustments a little at a time?"
Latest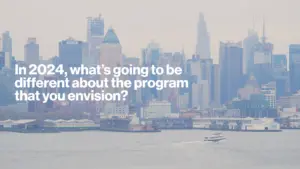 December 1, 2023
In the dynamic telecommunications landscape, Verizon's Partner Network continues to evolve, adapting to new trends and opportunities. For another segment featuring Mark Tina, VP of Indirect Channel Distribution and Channel Chief at Verizon Business Group, he explores exactly what types of significant changes and advancements the Verizon Partner Network will see in 2024. In this […]
Read More