Using Branded Trucks As A Marketing Tool For Real Estate Agents
When it comes to branded trucks, one business set to benefit from them most is real estate.
Real estate professionals are starting to realize that stationary messaging is crucial to their business, and one way to do this is through branded trucks.
In Scott Bunn's Region of Virginia, where he's the CEO and Sales Master at the Scott Bunn Division of RE/MAX 8 in the New River Valley Region, he found that his branded, rentable truck is one of his best assets. But it isn't what it initially seemed.
Bunn started using a branded truck in 2016. He initially thought it would be to get his name around town. It ended up being a client loyalty plan.
"Where I thought it was going to generate new business, it helped me lock in repeat business and referrals," Bunn said. He elaborated, adding that, while he can't track the branding awareness the truck brings when it's driving around, he can track when clients call him up to use the truck.
"I know, nine times out of 10, they're going to appreciate that enough to refer their friends to me and appreciate that enough to keep speaking my name in a good way in the community," Bunn said. He makes sure he locks them, however. They can only use the truck if they use his service.
Keeping an Eye on Successful Marketers for Inspiration
Bunn has always put himself out there in every capacity. He keeps a close eye on what other successful people in the country are doing, keeping what he likes and getting rid of what he doesn't like or isn't working.
"In 2015, I was at the National Association of Realtors Conference in San Diego. I knew my broker was the only person doing the moving truck," Bunn said. "I knew that everybody would make a comment, 'She's everywhere.'"
That's the story that Bunn wanted folks to say about him.
"I decided to try to be everywhere, and the moving truck was a component of that. There were so few people doing that," he said. He noticed that the folks who used a rental truck were in the top three in their community, so he thought this was something he would duplicate.
The last year has undoubtedly brought fluctuations. Bunn's listing volumes have certainly been up and down. He's used to having 15-20 listings but only currently has one listing.
Being at this stage is uncharted territory for Bunn. He believes some of it comes down to people's unwillingness to change or move during the COVID-19 Pandemic.
With low inventory, marketing and outreach strategies have changed somewhat, but Bunn's plan is to be bold with his name and also be first. He believes that people are ready to spend the money once the country fully opens back up.
One thing is for sure, in any case. Bunn's truck will be driving around town.
To learn more, visit https://www.onthemovetrucks.com/realestate/.
Latest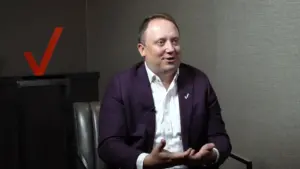 December 1, 2023
For a special episode of The Verizon Partner Network the focus was on the considerable role of partnerships in the Verizon Partner Program and the leaders shared their perspectives on the initiative. Their conversation brought about a lot of thought-providing context on the evolving telecommunications landscape. In today's era, collaboration and integration are key to […]
Read More