Why You Need a Life Coach
Mind, body and spirit are three ingredients necessary to achieve a holistic balance in one's life. It's the job of Jillian Arena, Owner of Intuitive Balance Coaching and a holistic life coach, to strike that balance within her clients.
"A lot of coaches will focus just on the mental and emotional side of things," Arena said. "They'll just focus on the action steps needed to create this life that you're really trying to dive into. I do a little bit of all of those things. I bring in some of the spiritual stuff, as well, because I feel all of these things are affecting our overall happiness."
Arena said that, when clients come to her trying to work out issues they are experiencing with their job, it isn't the job at all that's the real issue.
"Maybe they weren't feeling connected or feeling connection with their community or connection to something greater," Arena said. "Maybe it was some emotional or mental blocks they were having around believing in their ability to perform at their job."
After starting her family and leaving behind a position in the corporate world, Arena found herself stuck. A friendly suggestion to attend a yoga class led Arena on a path of self-discovery, and her journey toward life coaching began.
"We all know what we need, innately," Arena said. "It's just maybe we haven't been given permission to trust ourselves. Where are you saying no in your life when you really should be saying yes? It begins with baby steps and gradually unlocking and building up the strengths that lie within the person."
Follow us on social media for the latest updates in B2B!
Twitter – @MarketScale
Facebook – facebook.com/marketscale
LinkedIn – linkedin.com/company/marketscale
Latest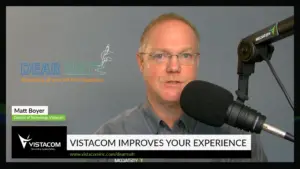 December 11, 2023
In a time when the AV industry supply chain faces unprecedented challenges, understanding its current status and future trajectory is crucial. In this week's segment of "Dear Matt," presented by Vistacom, host Matt Boyer, the Director of Technology at Vistacom, brings his over 30 years of experience in the audiovisual industry to the status […]
Read More