Will Apple's Mandated Hybrid Work Strategy Pay Off?
Over more than a year of collaboration in the face of a global pandemic, remote work has become the norm – but companies are getting antsy.
Apple and CEO Tim Cook, in fact, have doubled down on a commitment to hybrid work moving forward, putting forward a schedule that would see all employees required to attend in person multiple days per week.
Even as employees conducted an internal survey that highlighted a majority strongly agreeing that "location-flexible working options are a very important issue to me," it appears the hybrid future isn't slowing its approach.
So, what precedent does this set for "Big Tech" and other organizations trying to navigate the return to work? What does "self-defined" work really mean, and can companies like Spotify succeed by giving employees free rein to work as they please, or will Apple's approach prove most effective despite employee concern?
Growmotely CEO and founder Sarah Hawley joined Voice of B2B Daniel Litwin on this episode of MarketScale TV to share her insights, providing more context for the widely cited Growmotely 2021 Future of Work report, which found that both industry entrepreneurs and industry professionals believed remote work would become the new normal, with 76% & 74% respectively agreeing – and 61% of employees adding that they'd prefer a fully remote position.
Latest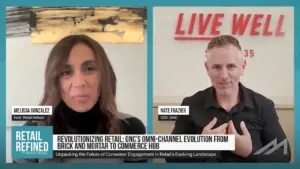 November 29, 2023
The transformation from a traditional brick-and-mortar store to an integrated commerce hub is crucial in the fast-evolving retail landscape. GNC's omni-channel evolution epitomizes this shift, blending in-person and digital experiences to meet the contemporary consumer's demands. But what does this mean for the future of retail? "Retail Refined," hosted by Melissa Gonzalez, welcomes Nate […]
Read More