AMC and Zoom Partnership: What Will the Big Screen Conference Experience Be Like?
AMC and Zoom have announced they are launching "Zoom Rooms" sometime in 2023. Zoom Rooms will allow for video conference calls to occur in AMC movie theaters, increasing the meeting capacity to over 75 people. Additional services will be offered as well such as food & beverage and movie viewing.
Scott Srolis, SVP of Sales & Marketing, Salamander Designs, has a positive outlook on where AMC and Zoom could go with their in-theater Zoom calls. The two companies have the potential of creating comfort and community within companies who use their new service. However, Srolis also poses some important logistical questions as well, focusing on aspects like sound, video quality, and user interface representation.
Scott's Thoughts:
"Hi everyone, Scott Srolis with Salamander Designs. I've been thinking about the Zoom and AMC partnership and what kind of user experience we can expect having never attended a virtual meeting in a movie theater. I'm just using my imagination, but I can imagine, if you will, that this really, really great big screen, great sound, comfortable seats.
Evidently there'll be hospitality as well, so we'll have good eats. Get to see a lot of my local colleagues that I only see virtually and get to come together and bring that energy into one room. That sounds exciting. I'm curious to see the experience for myself to be able to give you a firsthand knowledge.
When I think about things is how is the user interface gonna be represented on the screen showing the other participants throughout the community that you're sharing this virtual experience with. And then from a microphone perspective, how will the microphones be set up? And everyone wants to hear, they want to see and be heard.
So as long as all those elements come together with great energy from a great team, I think it'll be a wonderful experience, but need to check it out for myself. Thanks a lot."
Latest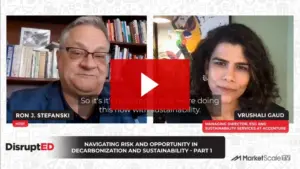 September 26, 2023
The global conversation has shifted dramatically towards decarbonization and sustainability in recent years. With the world experiencing unprecedented levels of disruption, from 5G technology to the challenges of a pandemic, the urgency to address climate change and its implications has never been more palpable. Although most business leaders see the vision of Sustainable Development […]
Read More