AMC Working to Avoid Bankruptcy as COVID Slowdown Continues
Theater chain AMC, already in debt due to luxury upgrades to its theaters prior to the onset of the COVID-19 pandemic, is still desperate for cash.
It's projected that the chain will need $750 million to hit its 2021 cash requirements, meaning an influx of more than $100 million in December and an attempt to sell 50 million more shares, combined with funding from Mudrick Capital Management, are just drops in the bucket.
The chain is among the hardest hit by the spread of the novel coronavirus, which initially forced cinemas to shutter and continued to wreak havoc on theater chains throughout 2020. Consumers simply aren't prepared to engage in the shared cinema experience yet, even with hope on the horizon in the form of multiple COVID-19 vaccines.
On this MarketScale industry update, hosts Daniel Litwin and Tyler Kern dove into what AMC's struggles mean for the company and for the industry at large, which will likely need to adapt to bring never-before-seen offerings to the table to get back to a level even close to pre-pandemic attendance.
In particular, dine-in theater experiences will need to adapt to a continued lack of attendance and find unique ways to offer elevated experiences with less staff and heightened peace of mind.
Key Points:
AMC raised more than $100 million in December.
However, the theater chain needs even more cash.

It's estimated that AMC needs $750 million to reach 2021 requirements.
Latest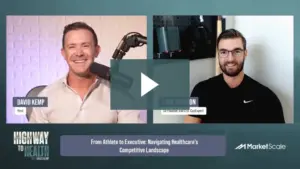 September 28, 2023
Navigating healthcare's competitive landscape requires innovative solutions addressing care quality and affordability. CapExpert is a game-changer in outpatient healthcare. It enhances asset management, ensuring the best care for patients. Luke Johnson, Co-Founder and CEO of CapExpert, spoke with Highway to Health's David Kemp on how CapExpert enhances asset management, bridging visibility gaps and streamlining […]
Read More