3 School Security Technologies that can Mitigate Health and Safety Risks
In a global crisis, one key area organizations should consider evaluating is their security strategies, policies, and procedures. Existing security systems and new innovations can help mitigate risks during future crises and, in the case of the COVID-19 pandemic, help reduce the spread of germs. For many districts, school security systems can help establish safer and healthier environments for students, staff, and visitors in schools—and should be updated to continue doing so.
At first, the process and price tag of updating school security systems and policies can be overwhelming, but government and private funds have been established to support initiatives like security enhancement. School leaders must push to find and leverage these opportunities to create a more innovative and proactive security program, especially by focusing on these three improvement areas:
Seamless interoperable communications
In an emergency, quick and efficient communication can make a difference and ultimately save lives. An interoperable communications platform is a critical component of any security strategy, especially in K-12 and higher education schools.
These platforms combine cellular, voice, data, and video communications into a single point of access, reducing lag time and barriers to efficient response between school officials and incident parties like hospitals and law enforcement.
The Centers for Disease Control and Prevention (CDC) advises that schools participate in community response efforts, and this type of platform is an easy way to do so, because it provides access to timely information and data. With these details in hand, schools can help increase situational awareness and better communicate both internally and externally.
Enhanced access control and advanced screening solutions
School access control has always been and continues to be a critical component of a comprehensive school security program. However, the COVID-19 pandemic has sparked the need for more innovative tools to properly screen individuals entering a school for multiple risks. Newer solutions like human temperature and face mask screening technology can help limit close contact and mitigate the spread of germs.
Human temperature screening solutions identify an individual's elevated skin temperature and alert specified individuals if anyone's temperature exceeds the established threshold. For example, the threshold could be set at the CDC's definition of fever, 100.4°F. These solutions cannot diagnose COVID-19 or other medical illnesses or viruses, but they can help schools automate processes for screening individuals and handling those who present an elevated skin temperature.
Cloud-based solutions
At the pandemic's onset, schools, offices, colleges, and universities were required to pack up and move to online learning. With a limited number of people allowed on-site, many schools had to manage their entire security system and facilities remotely. The demand for cloud-based solutions skyrocketed. And, even as some schools have reopened for in-person classes, emerging hybrid and remote schooling structures are fueling that demand even further.
Cloud-based security systems put eyes and ears on the ground whenever staff are not on-site. Several technologies can operate effectively in a school's remote security environment:
1. Cloud access control: Allows school officials to remotely control all access privileges and door schedules as well as pull access reports
2. Cloud video surveillance: Allows officials to securely monitor video footage from a single, remote platform without requiring human contact
3. Cloud-based service assurance platforms: Automatically identifies and diagnoses issues with existing security systems, allowing officials to more efficiently maintain systems while operating remotely
Updating school security systems can help create safer, healthier, and more efficient environments for students, staff, and visitors. It's pivotal that school leadership leverage any available funding to implement innovative systems, such as interoperable communications platforms, advanced screening solutions and cloud-based solutions.
Follow us on social media for the latest updates in B2B!
Twitter – @MarketScale
Facebook – facebook.com/marketscale
LinkedIn – linkedin.com/company/marketscale
Latest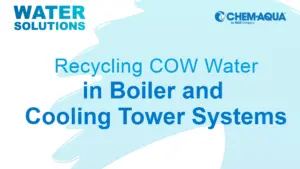 December 7, 2023
For the latest episode of ChemAqua's Water Solutions podcast, the focus was on an innovative approach to water conservation in the dairy industry. The show examined the potential of reusing Condensate of Whey (COW) water, a byproduct of dairy processing, and highlighted some of its economic and environmental benefits. Hosted by Dani Waddell, the informative […]
Read More