3 Trends Campus CIOs Should Understand
The challenges facing higher education today are complex, multifaceted, and interrelated — and technology-fueled innovation is fundamental to solving them. This is why the higher-education technology group EDUCAUSE has identified "the integrative CIO" as one of its top 10 IT issues for 2020.
"Many of the serious and complex issues facing higher education will require holistic solutions that leverage multiple aspects of an institution, often cutting across academic and nonacademic units," EDUCAUSE explains. "The integrative CIO brings in-depth knowledge of the institution, an understanding of technology solutions, a foundation in business process reengineering and project management, experience with numerous vendor partnerships, and many other skills and knowledge sets" to bear in tackling these issues.
As EDUCAUSE observes, campus CIOs should play a central role in strategic planning for their institution. To do so, however, they should be well versed in the key trends and developments influencing higher education.
Of course, the coronavirus pandemic continues to be the No. 1 topic affecting higher education today, forcing leaders to figure out how to bring students and staff back to campus safely and prevent the spread of the virus once they return. As campus leaders grapple with these challenges, the COVID-19 crisis continues to affect everything from enrollment and finances to the quality of education and research at institutions nationwide.
Looking beyond these challenges, here are three other critical trends that campus CIOs should understand as they take part in strategic planning for their institutions.
Enrollment was already on the decline, and this trend will continue after the pandemic is over.
Even before the pandemic occurred, college enrollment in the United States was shrinking. Enrollment fell 1.3 percent between fall 2018 and fall 2019, according to the National Student Clearinghouse Research Center, with 231,000 fewer students enrolling in U.S. colleges in fall 2019 than in the prior year.
Overall, postsecondary enrollment has seen a decline of more than 2 million students since peaking in 2011. Anxiety about rising college costs and growing skepticism about the value of a college degree have contributed to this trend.
The global pandemic has exacerbated this problem, and it's only going to get worse. From 2025 to 2029, U.S. college enrollment is expected to decline by 15 percent based on fewer numbers of U.S. births. Clearly, colleges and universities will have to innovate to reach new student populations beyond 18- to 22-year-olds, such as working adults who need new job skills.
Student expectations are changing.
The students entering college directly from high school this year were around five years old when the iPhone was introduced. They can't remember a world without touch screens and mobile apps — and their formal schooling has most likely involved tablets, Chromebooks, and Google Docs.
Having grown up tethered to their phones, today's students expect to have mobile access to information and services from wherever they are. In their experience, nearly anything can be requested online instantly, from the convenience of their phone — from scheduling a ride to ordering food delivery service.
What's more, today's students prefer streaming video to watching live TV. They not only play video games in large numbers, but many also watch video game matches regularly on platforms such as Twitch. The average student brings five to seven internet-connected devices to campus — and students expect seamless wireless connectivity on all of them.
Rapid advancements are driving a need for workforce retraining.
Advancements in automation and artificial intelligence will displace millions of workers in this decade, the global analysis firm McKinsey and Co. forecasts — forcing many employees to learn new skills. According to McKinsey, up to 30 percent of today's jobs could be lost to automation by 2030. But at the same time, new positions will be created; in fact, up to 9 percent of the 2030 workforce will fill occupations that don't yet exist, McKinsey says.
These changing workforce dynamics will create a massive need for job reskilling — and colleges and universities have an opportunity to help fill this need. The futurist Thomas Frey predicts that someone entering the workforce today will have to learn new skills eight to 10 times during the course of their career.
Implications for colleges
What will these trends mean for colleges and universities? Student recruitment and retention will take on even greater urgency as institutions continue to face declining enrollment — and improving the student experience on campus is an essential strategy for attracting and retaining more students. To do this, campus CIOs will have to design highly personalized, interactive experiences that meet the expectations of Gen Z students.
For instance, colleges and universities will need to deliver a customized, mobile-driven experience for students, powered by smart campus technology, in which students can get real-time information and request campus services from the palm of their hand. To meet students' entertainment needs, institutions should consider providing a streaming service that can stream live and on-demand content directly to students' device of choice. And if they haven't already, colleges should think about offering esports and other services aimed at gamers.
While improving the student experience is important, it won't be enough by itself to meet enrollment goals — and campus leaders will need to think creatively to attract new student populations. Recruiting adult learners and other nontraditional students with online workforce development programs could play a key role in these efforts.
During the next several weeks, this column will explore innovative ways that campus CIOs are meeting these and other challenges with the help of technology.
Latest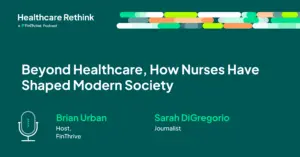 December 4, 2023
Nurses Have Shaped Modern Society beyond healthcare to stand as pivotal figures that transcend their traditional roles, influencing the broader spectrum of societal change. Healthcare Rethink, a FinThrive podcast hosted by Brian Urban, welcomes Sarah DiGregorio, Journalist, Author, and Speake,r to discuss her second book, "Taking Care: The Story of Nursing and Its Power […]
Read More