An Illinois Marine's Campaign for Congress
People from all walks of life decide to run for office, but a sizable number are people who have served the country. Per Veteran Affairs, there are 82 veterans currently serving in the U.S. Congress and one more veteran wants to join them. So, who is the next former Marine aiming to represent his district in congress?
For the continuation of the "Send a Marine to Congress" series of the DisruptED podcast, host Ron J. Stefanski resumed his interview with Matt Leiv, Associate Consultant for Moovance and congressional Republican candidate for the 14th District of Illinois. They discussed Leiv's aspirations and what led him to launching his campaign, as well as his political approach.
One area the two also discussed were their stances on politicians and age limits, and whether one should be introduced as opposed to term limits. Leiv stated despite most of Congress becoming ineligible if an age-limit were to be enforced, that it is something he has given thought under President Biden's leadership.
"There's certainly been questions about capabilities at that age of being in office and we've seen videos of situations where we kind of question, 'Is that who we want representing us?' It's not just about, do they have the cognitive capacity, it's also, are they giving the presence to the rest of the world?" said Leiv.
Stefanski and Leiv further discussed …
The inspiration behind Leiv's motivation to run for Congress
His hopes and goals for his constituents if he gets elected
What he wants his constituents to know and his plans for Congress if elected
"My entire adult life has been a life of service to the country. We've been a military family for just shy of two decades…So, if you want somebody who is a Marine, has got that experience, very assertive, straightforward, and has no problem fighting difficult fights. I'll ask the hard questions; I'll take the hard questions — I'm not going in to be a 30-year career politician. I'm going in to do right by the people and if that's only a few terms, that's only a few terms but we're going to come in and actually make some changes and actually do what we said," noted Leiv.
Matt Leiv is a former Marine, an Associate Consultant for Moovance and a strategic advisor for AI Startups. He is currently a congressional candidate for Illinois's 14th District. Leiv holds several business degrees all from Fullerton College, University of Southern California, and the USC Marshall School of Business, and also has a certificate in executive leadership from the Cornell Johnson Graduate School of Management.
Latest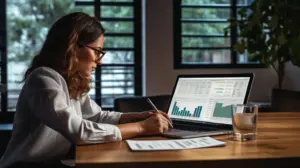 October 4, 2023
The intersection between security and financial acumen often gets overshadowed in a constantly changing economic landscape. While security is essential for safeguarding assets and ensuring continuity, its perceived monetary value is mired in misconceptions affecting company profitability. For many, security is viewed primarily as an expense rather than a potential cost-saver. However, understanding […]
Read More