Can the SAT and ACT Evolve Past A Barrier-To-Entry Test?
With many colleges already opting out, the Fiske Guide to Colleges will no longer report SAT and ACT score ranges. The Guide found irrelevancy when it comes to the accuracy, usefulness, and validity of the scores. While the pandemic caused some schools to shift, at least temporarily, some schools are doing it because they find the test no longer provides value.
Voice of B2B, Daniel Litwin sat down with Doris Zahner, Ph.D., Chief Academic Officer of Council for Aid to Education, Inc. (CAE) on Marketscale TV to discuss opting out of SAT and ACT scores. CAE is "a nonprofit developer of performance-based and custom assessments measuring essential college and career readiness skills."
The testing industry is valued at $1 billion, so it's hard to imagine it going away completely. But, FairTest data revealed 660 four-year institutions, including all of the Ivy League schools, went SAT/ACT optional or test-blind since March 2020. But can this large industry change course?
"We're seeing there's a difference in the use of these assessments," Zahner said. "Standardized tests measure things in a standard way… but can these assessments, instead of being used as a barrier to entry, be used to help students."
She elaborated the tests can help students identify areas where they can improve or get help. Zahner used an example of a client who uses CAE assessments, which measures communication and critical thinking skills. The client understands the students current level and can help improve their needs.
"But, they want to be able to help their students after graduating and in the workplace," she said. "So, they want to be able to improve the skills by the time students get to their senior years."
Follow us on social media for the latest updates in B2B!
Twitter – @MarketScale
Facebook – facebook.com/marketscale
LinkedIn – linkedin.com/company/marketscale
Latest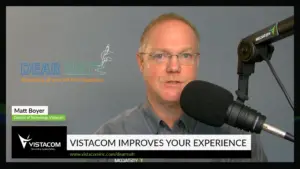 December 11, 2023
In a time when the AV industry supply chain faces unprecedented challenges, understanding its current status and future trajectory is crucial. In this week's segment of "Dear Matt," presented by Vistacom, host Matt Boyer, the Director of Technology at Vistacom, brings his over 30 years of experience in the audiovisual industry to the status […]
Read More