Communication Through Crisis: How to Talk to Children About School Shootings
With two mass shootings in the news within days of each other, it is difficult to avoid the information about such violence. According to AP News, the devastation of the Uvalde, Texas, school attack killed 19 children and two teachers. Seventeen individuals were wounded before the gunman was taken down. This event is distressing, and it may be even more so for children. Just as adults do, children need the information to help them understand and cope with tragedy.
"This generation is more informed than ever before," said Adam Coughran. Whether the knowledge comes from their friends or a news clip, this type of news permeates questions. These questions could fester into anxieties if the issues and news are skirted around. Parents and educators need to be prepared to answer these questions.
"First and foremost, be honest and open with children," said Coughran. Manipulating or skirting the issue could cause the parent to get caught up in the future, especially with tragedies that remain in the news for days and weeks. Not being honest with children causes distrust. "Truthful answers are important to build trust," reported NPR.
The School Crisis Center guidelines urge adults not to assume that the child's worry is the same as their own. Depending on what the child has heard or understands changes the direction of the conversation. First, ask them to share what they know or heard. This will help you clarify the facts and separate rumors. Tune into misunderstandings or frightening falsehoods.
Listen to their fears, "understand what they might be fearful of," said Coughran. Clarifying questions will help you see how or what they are processing. Their fear may lie in something completely different from the adults' perception. Listening to their worries may lead the conversation to a simple answer that will calm their anxieties. David Schonfeld, a pediatrician who directs the National Center for School Crisis and Bereavement at Children's Hospital Los Angeles, was recently interviewed by NPR. He said the best way to determine how much information children need is to listen to them.
Throughout the conversation, set a calm tone. Talk about things compassionately and lovingly, especially if you are still processing the travesty. There's a balance between keeping calm and being honest. "Be realistic and human, especially with older children," said Coughran.
One part of the conversation needs to include preparation of what to do if the children are in a dangerous situation. Coughran suggests explaining that there are "people who hurt and people who help." People who hurt are anyone from strangers to bullies and villains from cartoon series. Helplessness will exacerbate feelings of anxiety. Children need to feel confident that there is help around. Assure them that there will always be trusted adults to confide in.
For more insight on talking through a crisis with children, use the American School Counselor Association's tips "Helping Students after a School Shooting."
Latest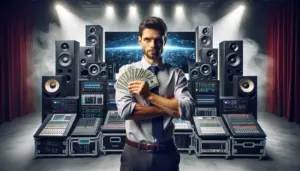 December 8, 2023
Mastering AV sales strategies in a global professional audio-visual (Pro AV) market, poised to reach $79.2 billion by 2028, requires much attention to detail. The surge in demand from corporate, government, and institutional sectors, driven by the need for enhanced productivity and efficient working environments, gives AV sales pros a lot of opportunity. In […]
Read More