Discerning the Hype and Hope for Higher Ed
For Michael Huseby, CEO and Chairman of Barnes & Noble Education, Inc.(BNED), navigating a $1.5B operation through the most dramatic upheavals in the history of higher education was a difficult, but ultimately fulfilling, challenge. In this episode, Michael provides a state-of-play for the university systems rocked by the past two years and offers up some steadying and hopeful guidance when it comes to the future.
The company's latest research report, COLLEGE 2030™: Transforming the Student Experience. features insights from college students, faculty members and campus administrators, and provides a comprehensive view of the current state of higher education and an exclusive outlook on the decade ahead. "The pandemic did not change the path for higher education, but it did change the speed at which we're traveling on that path," said Michael P. Huseby, CEO and Chairman, BNED. "Within the next 10 years, we will see a transformation of the student experience – from admissions through graduation – that will ultimately create a better, more inclusive and smarter world."
The Rise of Flexible, Personalized Learning
The pandemic has prompted colleges and universities to revisit traditional methods of teaching and engaging students. And though the abrupt, nationwide switch to online and hybrid learning presented many challenges, it also served to emphasize that students do not all learn in the same way or at the same pace, and that for many, online learning can offer much-needed flexibility. As one community college student explained, "Not everyone is a traditional student with the same amount of time and resources."
While in-person learning will always maintain its value, technology will allow the future of higher education to become more accessible, and more desirable, to students. In fact, 69% of students said more flexibility for attending classes and completing coursework was a key need.
"Online learning can be a great tool for extending the flexibility of education, but it can also be a challenge for many students who have limited access to technology or who struggle with learning through a screen," said Lisa Malat, President of Barnes & Noble College. "As schools continue to invest and improve their digital learning systems, we'll see students have more flexibility in choosing the class formats that work with their schedules and preferred learning styles, opening up possibilities for students who are caregivers or in the workforce."
Enhancing the Value of Education
While online offerings are expected to increase options for students in the near future, today, they are raising questions about the value of education. Already under scrutiny before the pandemic, tuition costs have become a source of strain between students and institutions. While about six in 10 of all respondents agreed that schools need to focus more on affordability, agreements broke down when looking at payments. While 94% of all students think schools should charge less for online classes, less than half of faculty (41%) and administrators (43%) say the same.
Crossing that divide will require institutions to shift their focus and learning models to where students are most focused today – career development. A majority (84%) of students feel that access to career development services is important to achieving success, and 47% say they want their schools to offer more career planning. Students also recognize the value of rounding out their learning outside of coursework, with 41% pointing to the opportunity to build soft skills as an essential value driver for education. On this, faculty and administrators agree, with many pointing to the expansion of micro-credentialing programs and lifetime learning options as ways to get students there.
A Seamless Student Experience
As students' academic life becomes more tailored to their personal needs, so will their lives on campus. The pandemic has highlighted just how crucial college services can be to getting a students' education off on the right foot, but it also highlighted how disjointed the delivery of these services can be. Providing students with the practical skills that enable lifelong learning and growth – and enhance the value of education – goes well beyond the classroom. To ensure students' success, it should be on every school's to-do list to develop a "Community of Care" – an umbrella of seamless student support that includes faculty advisers, mental health professionals, success coaches and peer mentors, all acting in a collaborative, integrated manner to guide each student through their college (and life) experience.
"Students, above all, want to know that they're being heard. And we're seeing colleges and universities increasingly take that into account as they work to balance the short-term challenges of the pandemic with the long-term needs of higher education growth. No one group can determine what the future of higher education will be – it will take students, faculty and administrators working together to build the new framework for learning in the U.S.," said Huseby.
Download the full report here.
Survey Methodology
Barnes & Noble College Insights™ conducted online quantitative surveys 1,438 college students, 323 faculty members (department heads, professors, adjuncts, instructors, and teaching assistants), and 104 administrators (presidents, vice presidents, provosts, CFOs, deans, and other academic leadership) across the U.S. in November 2020 to better understand how each group is reshaping the future of higher education following the COVID-19 pandemic and the changes it accelerated.
Follow us on social media for the latest updates in B2B!
Twitter – @MarketScale
Facebook – facebook.com/marketscale
LinkedIn – linkedin.com/company/marketscale
Latest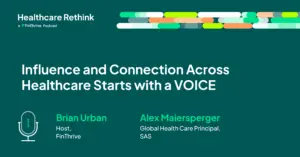 September 29, 2023
In the latest episode of the Healthcare Rethink podcast, presented by FinThrive, host Brian Urban sits down with Alex Maiersperger, the Global Principal Healthcare at SAS. Their conversation charts the role voice plays in influencing and connecting the healthcare industry. Maiersperger, who co-founded the Advancement League, shares his journey from being a healthcare optimist to […]
Read More