eLearning Provides Marketers New Opportunities to Reach Audiences
eLearning perfectly aligns with personal branding and upskilling. That's especially true, as the world continues to practice social distancing and in-person learning is on hold. As an educator, coach, and veteran marketer, Jamie Kernohan, founder of GVC Marketing, brings her insights to the conversation.
One thing she's noticed is that the skills gap was already present. "Pre-pandemic, marketing was changing so fast. Students couldn't keep up with the skills they need to get jobs," Kernohan commented.
Practical learning is necessary for every discipline, especially marketing. Kernohan was happy to see the promotion of free certifications and courses offered. "These certifications can help people pivot their jobs and skills, making themselves more viable. You must have a learning mindset in marketing to succeed," she said.
Even though the economy and employment are uncertain, companies should not cut marketing. Kernohan added, "Marketing's usually the first thing to do during a downturn, but in reality, it should be the total opposite."
She is seeing marketing jobs out there but cautions businesses looking for what she calls "a unicorn" that knows every aspect of marketing. "Employers will soon realize these people don't exist," she remarked.
Instead, marketers should specialize in areas and hone those skills. "Learn about what you enjoy whether that's how a website works or video production. Build your personal brand. Find opportunities to get experience to get that next-level job," she said.
Adult learners certainly have lots of eLearning options, as they aren't bound to only location-specific opportunities. Online learning can provide anyone with initiative a new perspective and skillsets.


Latest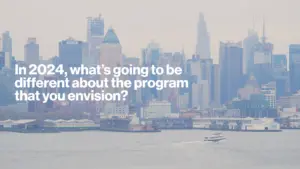 December 1, 2023
In the dynamic telecommunications landscape, Verizon's Partner Network continues to evolve, adapting to new trends and opportunities. For another segment featuring Mark Tina, VP of Indirect Channel Distribution and Channel Chief at Verizon Business Group, he explores exactly what types of significant changes and advancements the Verizon Partner Network will see in 2024. In this […]
Read More