Episode Two: Queens Library—The Public Library Innovations that Created an Even More Essential Service for the Community During the Pandemic and Beyond

The Queens Public Library is a library system that includes a digital and written collection with sources of information in over 200 languages, provides free classes and workshops each year at 65 locations across 178 square miles, and welcomes more than 11,400,000 visitors through its doors with 940,000 active cardholders. When the pandemic hit in 2020, this sizeable, mission driven organization had to pivot in ways it never imagined, overcoming challenges to remain a vital component of a community that relies on its programs and services.
This second DistruptED Public Library Edition episode is devoted to the Queens Public Library's mission to bring essential services to the Queens, NY community, Ron J. Stefanski continued his conversation with Queens Public Library's Chief Librarian, Nick Buron. Stefanski and Buron detail how Queens Library overcame myriad challenges during the pandemic to pivot its services and become more vital than ever.
"I say this often: the health and wellness of our staff is the first priority," Buron said. "Because if we don't care for our staff, we can't look out for other people." "We can't build from there."
Stefanski and Buron discuss…
● Continuing staff growth and development during and after the pandemic
● Retaining employees during a period of intense burnout
● The competitive challenges of public-funded, mission-driven organizations vs. the
private sector
"In sectors that are mission-driven, like education, healthcare, and libraries, it's really hard for us to compete with the private sector when it comes to salaries," Buron said. "That's a whole conversation about what you have to sacrifice to work for a mission-driven organization that serves the public good."
Nick Buron had devoted his entire professional career to New York libraries, including the past 6+ years as Chief Librarian for Queens Library. As Chief Librarian, Buron oversees public library service at each of the library's 66 locations. He leads a 700-person team responsible for the library's collections, programming, outreach, and customer experience. Buron, a Queens, NY native, earned his Master of Library Science from the State University of New York at Buffalo.
Latest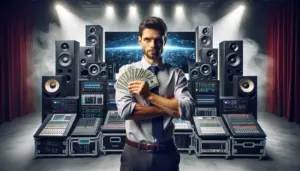 December 8, 2023
Mastering AV sales strategies in a global professional audio-visual (Pro AV) market, poised to reach $79.2 billion by 2028, requires much attention to detail. The surge in demand from corporate, government, and institutional sectors, driven by the need for enhanced productivity and efficient working environments, gives AV sales pros a lot of opportunity. In […]
Read More