Equipping Kids to Stand Against Bullying
Bullying, an ever-present issue in schools, has found new avenues through social media. The emotional toll on kids and the lack of consequences for online actions are alarming. In this timely episode of SecurED, hosted by Mike Matranga, CEO of M6 Global Defense, we sit down with Joe Morris, owner of Condition 1 Combat Center. Joe is on a mission to empower kids by equipping them with self-defense skills and, more importantly, the emotional intelligence to combat bullying.
Can Kids Become 'Bulletproof Heroes' Against Bullying?
Join us for an insightful discussion on the impact of bullying, both in schools and online. Our guest, Joe Morris, outlines Condition 1 Combat Center's innovative approach to teaching kids self-defense while nurturing emotional resilience. We explore the consequences of online bullying and the role parents play in monitoring social media.
Key Discussion Points:
Bullying in the Digital Age: Joe Morris sheds light on the profound impact of social media on hazing, highlighting the absence of immediate consequences for hurtful actions and words.
Emotional Intelligence: The conversation delves into the importance of emotional intelligence in identifying and addressing bullying. Joe explains how his program aims to instill confidence and resilience in kids.
Parental Responsibility: The episode explores the role of parents in monitoring their children's online activities and fostering a safe environment. Mike Matranga and Joe share insights on the need for parental vigilance in the digital age.
Meet Joe Morris:
Joe Morris, the owner of Condition 1 Combat Center, is a former Marine and a passionate advocate for kids' self-defense and emotional resilience. With his innovative approach, he seeks to empower kids against bullying and equip them with the tools to become "Bulletproof Heroes."
Latest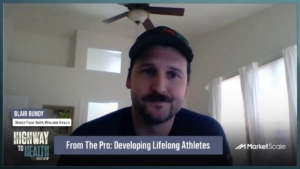 September 20, 2023
Blair Bundy, the Director of Player Health for the Milwaukee Brewers, recently shared his insights on the importance of nurturing lifelong athletes from a young age. He emphasized that the ultimate goal for children participating in sports is not just about winning games but about fostering physical and mental resilience. Such individuals lessen the strain […]
Read More