How Adobe Education is Fueling Creativity in the Classroom
Would this massive shift to remote working and learning have worked without Adobe digital tools like PDFs and Portfolio? The way that Mala Sharma, VP & GM Creative Cloud Product, Marketing and Community at Adobe explains it, we don't think so. In this episode of EdTech Today, Mala details the pandemic moves and methodologies of one of Silicon Valley's most legendary software companies and how she believes that we all can come out of this mess more resilient through creativity.
Mala recently expressed these sentiments in a blog post, an excerpt of which is below:
"COVID-19 and subsequent shelter-at-home orders have not only affected the way teachers teach and students learn in the near term — they have also jump-started an important, longer-term conversation about what is and isn't working in our current education system — a conversation that has been needed for years."
And we're presented with a unique opportunity for all invested parties — from educators, academic leaders, and policymakers to parents and, most importantly, the students these institutions support — to use our collective creative minds to reimagine what student success in our education system looks like.
Adobe's Education group always strives to have our finger on the pulse of all of these parties — and, given the unprecedented nature of this school year, this past June we reached out to more than 1,000 high school students across the U.S., while many were sheltering at home to gauge their sentiments about school, their plans for the fall, and their feeling about their futures after everything that has happened in 2020.
Here is what they told us:
– While nearly one-third reported they're likely to consider a gap year before college, 90% are still likely to attend a four-year college or university.
– More than half (57%) now believe that what they learn outside of school is more important in preparing them for their future than what they learn in school. That's a 30% increase from 2016.
– While the number of students feeling worried, nervous, or scared about the future has increased by 17% compared with 2016, the vast majority (85%) are still optimistic about their futures.
– Despite unprecedented uncertainties and the rise in their worries, 18% more high school students today have a dream job they're working toward than they did in 2016. What's more, today's dream jobs are in a creatively diverse set of careers, such as the arts, nursing, design, and engineering.
Read more about Adobe's Distance Learning initiatives and resources here.


Latest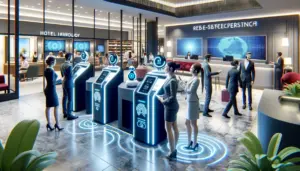 December 8, 2023
Facing critical staffing shortages, over 80% of hotels struggle to fill positions despite offering higher wages and flexible hours, as reported by a recent American Hotel & Lodging Association survey. While slightly improved since May 2022, this situation highlights a significant challenge in the hospitality industry, with housekeeping roles being the most urgently needed. […]
Read More