How Educators Can Take Advantage of Federal Educational Funds
Where do the educational relief funds provided by the U.S. government come from, and how can educators take advantage? Angela Arnold, General Manager of OverDrive Education, shared her thoughts.
"It surprised me to learn that many of the teachers, librarians and even some administrators we worked with have low information about U.S. government relief funds. They're just not dialed in yet as to where this money comes from and how they should lobby for their students' share of it.
We partner with more than 46,000 schools in the U.S. and abroad to deliver a digital reading platform that ensures every student has access to the right books.
According to the most recent Simba Information report, the instructional materials publishing industry for the Pre-K to 12 market generated just under 9 billion dollars in 2019. That includes textbooks, courseware, tests, and trade books for required reading like Bud, Not Buddy, The Iliad, Hidden Figures or Joy Luck Club. Now, consider that the American Rescue Plan Act, passed in March of 2021 allocates 123 billion dollars for K-12 funding. This is on top of the 13 billion dollar CARES act funding passed in March of 2020 and the 54 billion dollar COVID relief package passed in December of 2020. Keeping in mind that higher ed and others have different set asides, by my math, that adds up to about $190 billion dollars in relief aid just for K-12. 190 billion dollars. So, all instructional materials spend was 10 billion a year. Now, here comes 190 billion dollars into this market.
Congress designed the money to flow top down from state educational agencies to local school districts, who must apply to receive those funds. Each state has its own process.
So, one of the consequences we're hearing is that there's an information gap between top agencies and those who work with students in classrooms and buildings. It's hard for anybody to navigate the acronym soup into which terms like ESSER, ESF, CARES, and ARP all mix, but the result is that educators in the classroom, and school librarians, are low on the details about how much their school is getting and how the money will be spent. This gap will close over time.
Why? Because we know all great educators work in the best service of kids and they want to take the right risks with public dollars. Everyone from the top down is looking to maximize the use of this once in a lifetime windfall and make good decisions for the long term. They're doing that now, even as available data is still catching up.
In the next months, I'm sure we'll see better processes and tools for school staff at every level to share information and collaborate on worthy projects that, according to the legislation, quote, respond to students' academic, social, and emotional needs and address the disproportionate impact of COVID-19 on underrepresented student subgroups, unquote. It's coming, and when this money arrives, it will make a transformational impact, especially in the poorest schools.
Follow us on social media for the latest updates in B2B!
Twitter – @MarketScale
Facebook – facebook.com/marketscale
LinkedIn – linkedin.com/company/marketscale
Latest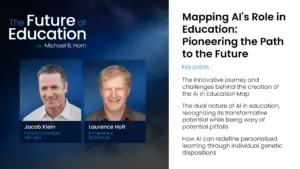 October 2, 2023
Mapping AI's role in education should be a critical step in bringing together innovative technology-based solutions with the expertise of human educators. With rapid advancements in artificial intelligence and an increased reliance on technology-driven educational solutions, the education landscape is on the brink of a significant transformation. AI promises highly personalized learning experiences, efficient administrative […]
Read More