How to Attract and Retain Quality Talent in an Organization
DisruptED Host Ron J. Stefanski discussed how to attract and retain quality talent in an organization with Jose Flores, the CEO of Ancor Automotive LLC.
Diversity in the workplace should be embraced and encouraged as it improves positive pressure. It allows people to see things from a new perspective, which helps broaden the horizon of how they think and solve critical problems. Therefore, diversity allows for growth within a sphere.
For example, diversity brought about the idea of making cars that run on Lithium-ion batteries. However, we must consider the impact of this metal on the ecosystem. Another challenge to this innovation is sustainability. Suppose hundreds of these battery-powered cars are in circulation. The power grid in Detroit may not be able to support them.
Flores and Stefanski discuss…
● Diversity in the workplace can be a source of positive pressure.
● Education, inspiration, and appreciation of workers are principal ways to retain
talent in any organization.
● Companies may need to resort to creative means (think outside the box) to
find and retain talents.
Flores mentioned that companies are facing challenges in acquiring and retaining new talents. He suggested a solution to retain quality talent, which is collaboration between companies and institutions. Another solution was to improve communication channels between potential talents and those with answers, such as a CEO (like him). Engineering graduates in the state are encouraged to seek job opportunities, which will boost the talent pool. "Having several degrees is of no use when there is no commitment to work. Therefore, when choosing employees, I look beyond the certificates but focus on the zeal they show," explained Jose.
Retaining talents is a big challenge but not an impossible task. The first step in retaining talents is development (invest in their education); when you help people grow and break new ground in their careers, they are motivated to prove their skills and worth in the organization. Incentives and appreciation also play significant roles in retaining talents. "We incentivize people to come to work with points earned which they can exchange for gifts," explained Flores.
Another strategy to retain talents is to avoid forcing a bond with a non-compete agreement. Let them be comfortable enough to want to stay in the company. Keeping an employee solely with the aid of a contract indicates they do not share the company's goals. There is no need to force them, but executives can rather inspire them.
Furthermore, building a workplace environment and culture that promotes wellness is a winning strategy for retaining talent. Flores mentioned the importance of coming together outside the workplace to build a relationship. There should be a time to work and a time to have fun. Play helps to unwind and reduce stress, which promotes togetherness and productivity.
Finally, the three main points for attracting and retaining talents that can help your company "disrupt" the industry is inspiring, investing, and believing in them.
Latest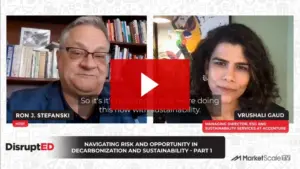 September 26, 2023
The global conversation has shifted dramatically towards decarbonization and sustainability in recent years. With the world experiencing unprecedented levels of disruption, from 5G technology to the challenges of a pandemic, the urgency to address climate change and its implications has never been more palpable. Although most business leaders see the vision of Sustainable Development […]
Read More