How Workplace Learning Must Adapt To Meet The COVID-19 Challenge
Sam Herring is the Vice President and General Manager, Intrepid by VitalSource. His post originally appeared March 5 here. Herring will appear on an upcoming episode of Remote Possibilities for an update.
This past weekend my wife and I braved the crowds at Costco. We were running low on household staples, but I'll admit, I also wanted to make sure we were stocked up on key provisions in the event that the coronavirus spreads further in the Seattle area where we live. While waiting in line I struck up a conversation with an Amazon employee who shared that the company has cancelled all travel and is encouraging team members to work from home. Of course, Amazon is not alone. Many companies are announcing similar travel prohibitions and encouraging employees to work from home. Similarly, local government public health departments in affected areas like Seattle are requesting employers to enact work from home measures where possible, and hundreds of major conferences and events are being cancelled. Major tech events are being converted to virtual formats, and other events like TED are considering overhauling their programs to be virtual as well.
At Intrepid by VitalSource, the business I lead, my colleagues and I are starting to see major impacts of COVID-19 across the workplace learning community. Over the last few days, several corporate learning leaders and professional learning providers have reached out to us, all wrestling with the same challenge: due to travel restrictions and accelerating adoption of work from home policies, how can we effectively migrate critical in-person training programs to impactful digital formats?
On the surface, this might not sound like anything new – online learning has been with us for at least a couple of decades, and we've been through recessions that drove steep accelerations in virtual learning before. What's different about this moment?
First, it's not about cost this time; it's about reducing risks and keeping people safe. Not only are companies eliminating travel which prohibits employees from various global locations from coming to central locations for training, many headquarters are encouraging employees to work from home, and in some cases temporarily closing offices, to promote social distancing and protect employees from possible infection. One colleague I spoke with this week is rethinking how to deliver a client training program for an intact team in Italy because the team's local office is closed and all members are all working from home.
Second, this is not "back to the future" a la 2000s. Old-school asynchronous e-learning may have met expectations after the dot com bust (2001), and virtual classroom broadcasts may have worked during the Great Recession, but today's learners (tens of millions of whom weren't part of the workforce in the 2000s) and the organizations they work for have much more sophisticated expectations. And that's a good thing, because today's digital learning solutions have moved beyond simple content delivery — they can enable collaborative digital learning experiences that rival the engagement of the classroom. For example, Intrepid customers use our platform to design and deliver time-bound, cohort-driven learning journeys in which learners interact, engage and solve real work challenges together.
I predict that in the coming days and weeks, corporate learning teams and professional learning providers will aggressively change their learning design and delivery models to embrace more collaborative approaches to digital learning. Many innovators, such as Microsoft, Deloitte, GP Strategies, Miller Heiman Group (Korn Ferry) and INSEAD already have. And I believe there will be enduring, long-term adoption of these collaborative learning approaches long after COVID-19 recedes — just as we've experienced with asynchronous e-learning and virtual instructor-led training. We are already seeing the early signals in Asia of the kind of accelerated digital learning adoption that I believe will happen as the world adapts to the impacts of COVID-19. For example, Duolingo's CEO recently shared that daily active users of their language learning site in China have roughly doubled over the last month – which he attributes to people staying home to avoid the virus. And Cisco Webex has seen user volumes increase 4 to 5 times in recent weeks across Japan, South Korea and Singapore.
People around the world are stepping up to help their communities address the many challenges of COVID-19. Nurses, doctors, first responders, educators and public health leaders are on the front lines applying their skills, experience and wisdom to keep us healthy, and we are all deeply grateful for their contributions. Everyone has something to offer, and it's in this spirit that my team and I at Intrepid are stepping up to the challenge and offering our skills and capabilities to be of service to workplace learning professionals. Likewise, it is my hope that workplace learning professionals throughout the world can apply their many talents to help their organizations and communities navigate through the current challenge.
I would love to hear from you. How are you adapting learning in your organization to address the impacts of COVID-19? And, are you applying your special learning talents to support your community? Please share! Most of all, be of good courage, and remember to wash those hands!
Latest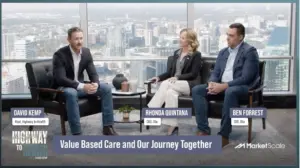 December 7, 2023
As of recent times, the healthcare industry has been progressively shifting towards value-based care, a model that emphasizes patient outcomes over the quantity of services delivered. This transition represents a significant shift that promises to enhance patient experiences and outcomes while controlling healthcare costs. With a growing emphasis on this approach, especially over the […]
Read More