Innovation to Lower Cost Base for Higher Education
California higher education is losing money. Their enrollment is decreasing, as inflation has the cost for school attendance, sky high. The state is working on establishing a new and updated solution to solve the high enrollment costs coupled with the low enrollments rates.
Michael Horn, Host of The Future of Education, speaks of innovation and its potential to benefit not only California higher ed. schools, but other state higher education as well. Horn knows that higher education currently lacks the resilience needed to be prepared for cyclical funding declines.
Michael's Thoughts:
"The news that California's higher education system may be hemorrhaging billions of dollars compared to the levels that it's been at for the last several years, just points to the fact that higher education needs to lower its overall cost base through innovation.
By innovating and making higher education fundamentally affordable, it can not only extend access to many, many more students, it can also help higher education be more resilient in the face of when you see these public funding declines. Which, because they're cyclical, they happen every once in a while, but if higher education is prepared, it's innovated and made the fundamental offering more affordable so that more people can.
Then they can change the game completely, which would be welcome news for California, for California's system of higher education, and most importantly for the students."
Latest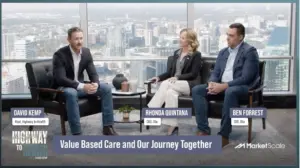 December 7, 2023
As of recent times, the healthcare industry has been progressively shifting towards value-based care, a model that emphasizes patient outcomes over the quantity of services delivered. This transition represents a significant shift that promises to enhance patient experiences and outcomes while controlling healthcare costs. With a growing emphasis on this approach, especially over the […]
Read More