International Education Week's 2022 Open Doors Report Shows 4% Increase
Every year the U.S. Department of State, in partnership with the U.S. Department of Education, celebrates International Education Week. Part of these festivities is publishing the Open Doors Reports to showcase the current state of international students attending state-side universities in the current year.
Michael Horn, host of Future of Education, breaks down what this report means for universities and students across the globe.
Horn's Thoughts:
"US colleges got some good news when they saw the early data from the common app that international applications, students from overseas appear to be way up relative to their 2019-20 baseline. That would be good news for US colleges because international students that come here often pay the full price of tuition, meaning that they can help a lot of colleges that are struggling financially paper over their challenges.
Now, this is interesting because resting on those laurels doesn't seem like a sustainable strategy. There are a lot of other countries worldwide that have become top destinations for international students as well. Whether the United States remains as a top destination, given the political climate and how it could change over the next couple years, are all big questions.
But, if US Universities can use the influx of international students as an opportunity to take that revenue and really address their underlying business model challenges: creating new programs with lower cost spaces to bring in more revenue, attract international students in a variety of other ways, and so forth. Then, this could be a very good sign to help US institutions with the challenges facing so much of higher education right now."
Written by Michael Boyer
Latest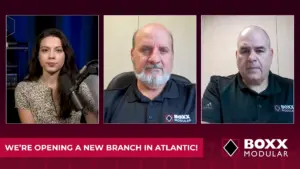 December 4, 2023
In an era where construction innovation is reshaping the industry, modular construction's growth continues to rise. In this episode of Built Modular, Boxx Modular's strategic expansion into Moncton, Atlantic Canada takes center stage. Host Gabrielle Bejarano welcomes Charles Landry and Ray Girouard to explore the implications of this venture. Bejarano, Landry, and Girouard discuss […]
Read More