Kami Enables Learning, Creating, and Collaborating
MarketScale is attending ISTE 2018 this week in Chicago, a premier conference for ed tech. Stakeholders, providers, and users come together to talk about how technology is shaping education and how to use it to create better experiences for students and teachers. Technology has dramatically changed education and even has the ability to remove paperwork from a setting that has been for years burdened by it.
Kami Changes the Paper Game in Education
It's possible with the help of Kami. Kami is an app that acts as a centralized, paperless hub for teachers and students. It's a space where teachers can engage students to learn and work together. Kami has the technological tools enabling students to be creative without the need for paper. Paper makes processes clunky and time-consuming. Kami helps free education from the weight of paperwork.
A Conversation with Kami's Jordan Thoms
We had a chance to chat with Jordan Thoms, CTO and Co-Founder of Kami, to learn about how Kami works and why it's important in the ed tech space. Here are some highlights from the interview.
What is quite interesting about Kami is that it fits the need of an industry it didn't necessarily focus on when it was launched. Jordan shared, "We launched the tool globally to be of use to many types of businesses. Then we saw this community rise from those using that were teachers. So, we began to focus on it and refine the tools to better serve education."
Paperwork is a time zapper. Kami estimates that without such a tool, teachers spend up to five hours photocopying assignments every week. With Kami, the students work on the project on their device and can turn it in digitally. "Teachers get hours back every week now that they can focus on more important things than making copies," Jordan said. "It empowers teachers to find their teaching style because the logistics of paperwork are handled."
The assignment can go home with the student as well on their tablet so no more back and forth paper homework. Students work on it outside of class then submit it back to the teacher. The dog can't eat this kind of homework.
Kami works with the systems you already have, integrating your paperwork organization. The industry of ed tech has been shifting toward integration and offering easy access to documents right when you need them. It brings efficiency to workflow seamlessly. Teachers and students don't have to spend time finding that one piece of paper among the stacks. "We knew the tool had to be seamless to matter. Tools for digital documentation have to be simple and easy to append to the workflow," Jordan added.
You don't lose the capabilities of using paper and pen with Kami. In fact, teachers and students get access to more with Kami's tools. They can look at a variety of digital resources rather than a smaller sample of paper ones.
Kami enables learning, creating, and collaborating. It integrates with Google Classroom and Google Drive inspire creativity without the limitations of pen and paper. Collaboration tools work in real-time with Kami. Two-way conversations can occur as well as annotation for feedback and questions.
Learn more about Kami by visiting their website kamihq.com.
Latest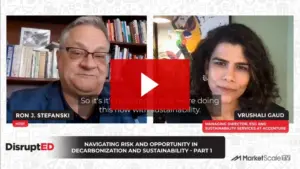 September 26, 2023
The global conversation has shifted dramatically towards decarbonization and sustainability in recent years. With the world experiencing unprecedented levels of disruption, from 5G technology to the challenges of a pandemic, the urgency to address climate change and its implications has never been more palpable. Although most business leaders see the vision of Sustainable Development […]
Read More