Learning Loss and Transforming Education
Transforming Education is a moral imperative if we believe that a high-quality education is the birthright of every student. We must bring together a coalition of the willing to advance systemic changes in learning. Otherwise, we risk allowing this pandemic to set us back at a time when we have the resources and the means to leap forward and transform learning for every student.
Each month on DisruptED, Hosts Caesar Mickens Jr. and Ron Stefanski, will be exploring what a return to normal means for education.
Education remains one of the true game changers for those financially disadvantaged. Do we embrace new ways we deliver education across this country? Do we leverage new technologies to provide access and equity in ways previously not possible? How do we engage and impact student performance?
Follow us on social media for the latest updates in B2B!
Twitter – @MarketScale
Facebook – facebook.com/marketscale
LinkedIn – linkedin.com/company/marketscale
Latest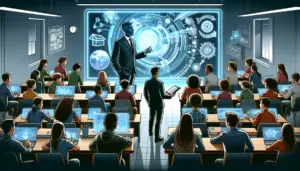 November 27, 2023
In an era where education stands at the crossroads of tradition and innovation, the potential value of thought leadership becomes the guiding star for progress. "Just Thinking" dives into this potential with host Kevin Dougherty and guest Evan Edwards, a Professional Learning Specialist at 806 Technologies who exemplifies the transformative impact of visionary guidance […]
Read More